students assist Phillip Island Nature Parks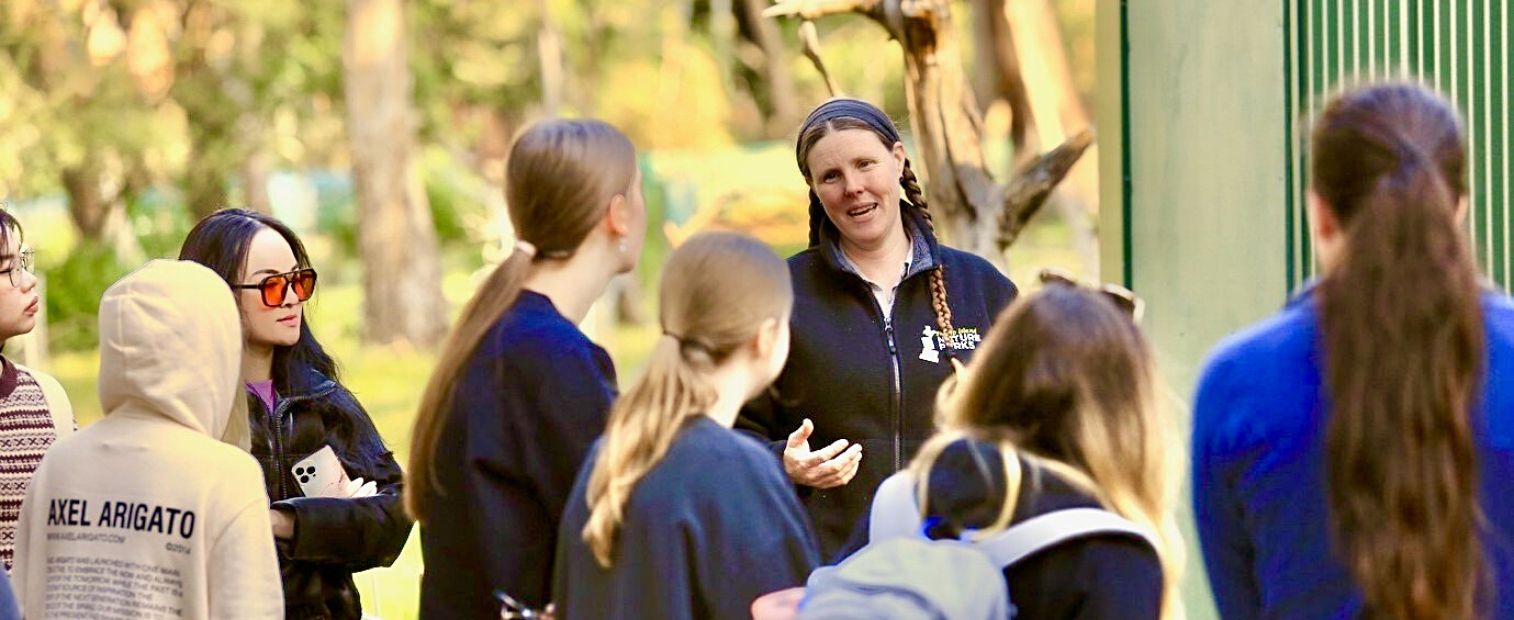 William Angliss Institute's Bachelor of Tourism students engaged in an intensive collaboration with Phillip Island Nature Parks about the popular Victorian tourism destination, known for its natural wonders, including the Koala Conservation Reserve, The Penguin Parade, and The Nobbies Reserve.
Students from Bachelor of Tourism, Bachelor of Tourism (Marketing), and Bachelor of Tourism (Ecotourism) worked collaboratively to take a deep dive into the ecotourism offerings provided by Phillip Island Nature Parks. Blended learning offered opportunities to talk with Phillip Island Nature Parks' marketing team online and in class to gain important insights into visitation and campaigns over the course of the semester.
The highlight of the project was the opportunity for students to visit Phillip Island for a day trip, where students volunteered to conduct a beach clean-up at Kitty Miller Bay, contributing to ongoing data about Marine Pollution. They also gained a behind-the-scenes tour of the new $58.2 million Penguin Visitor Centre with Learning Experience Officer Ewan MacLeod, gaining insights into the design factors behind the displays and sustainability. Finally, students attended presentations by Koala Conservation Reserve's Helen Masters, who spoke about threatened species and efforts to increase the animal population on Phillip Island.
William Angliss Institute Lecturer - Tourism, Ngaire Griggs said, "It's not that often where you get to approach the two different perspectives on the same day. This is setting the students up with a behind-the- scenes approach to conservation by allowing them to learn, in person, with Phillip Island Nature Parks, which will prepare them for their careers as they enter into the tourism industry."
From these experiences, lecturers Belinda Daly and Ngaire Griggs tasked the students with a research problem focussing on how to attract and engage tourists while also sharing important conservation messages connected to the wildlife that visitors come to experience. Students were asked to select a target audience and use the corresponding data to design appropriate ecotourism experiences and interpretation media.
The success of the industry collaboration was evident when the students presented their projects to Phillip Island Nature Parks' staff at the end of the semester. Some students focussed on penguins, tackling the issue of flash photography of penguins and how to combat this through dedicated camera points, as well as ways to increase revenue through purchasing penguin plaques to decorate the Penguin Visitor Centre walls.
Other student concepts focussed on preserving a local bird species known as the Bush Stone Curlew. Students used digital media through websites, TikTok and YouTube to raise awareness of these birds and the need to reduce threats from cats and foxes.
Ecotourism Lecturer Belinda Daly remarked that the teaching and learning journey is a key aspect of the success of the project. She said, "Authentic learning on real-world, complex issues allows students to apply their theoretical learning in context with real places and issues, develop problem solving skills and extend their critical and creative thinking. These are key aspects for future employment in our dynamic world."
To learn more about our exciting courses in tourism, or to enrol, contact study@angliss.edu.au or call 1300 ANGLISS for further information.
PUBLISHED 11 NOVEMBER 2022