Angliss students serve up aces at Australian Open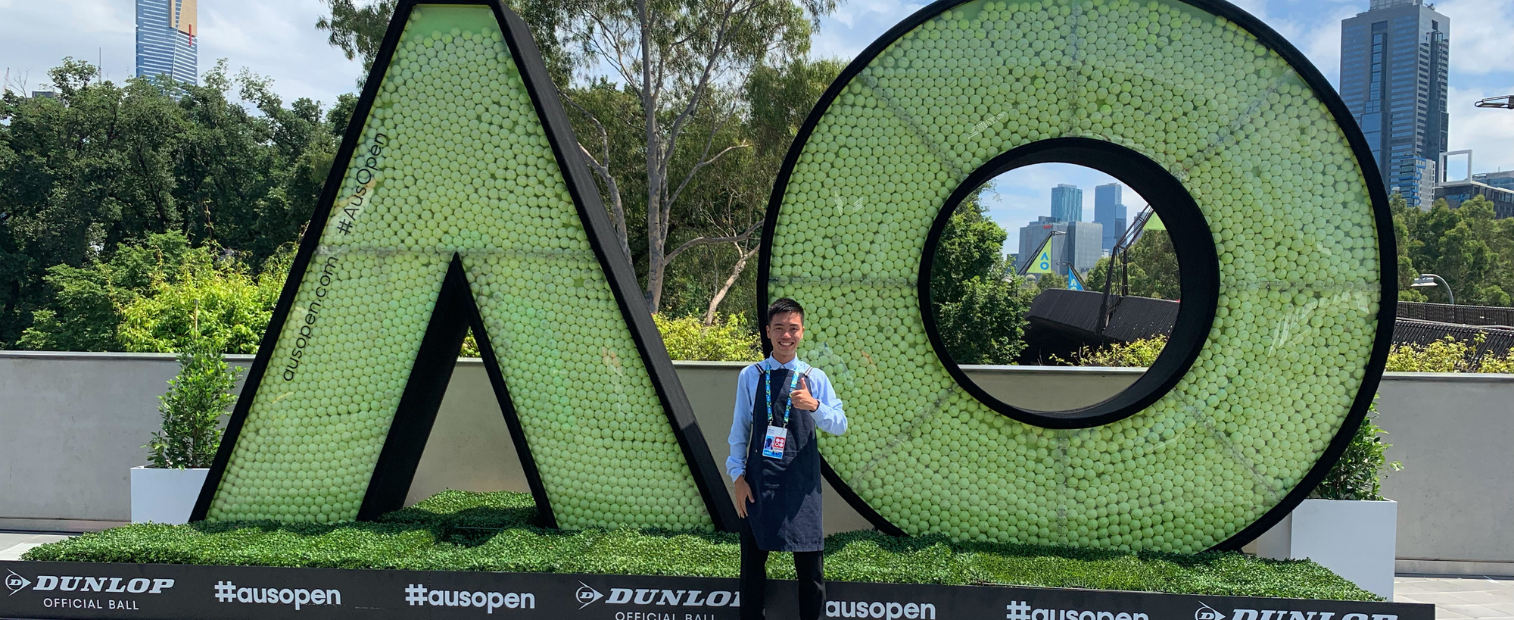 Melbourne feels like it's coming back to life after a smashing January, led by a powerhouse Australian Open. The world class event showcased the finest event standards both on the court and off, supported by William Angliss Institute foods, tourism and hospitality students who worked behind the scenes ensuring the championship food service was aced.
The opportunity to work at the Grand Slam was coordinated by the Careers and Employment Office on campus. Our partner, Delaware North, is the hospitality services provider for the event and came to the Melbourne campus to speak with students interested in the unique opportunity.
"I had opportunities to work in a few kitchens at the tennis, including the Rod Laver kitchen, which saw me learning so many efficiencies in kitchen operations," said Peggy Jeannot. She is currently studying Certificate III in Commercial Cookery SIT30816 and hopes to one day own her own restaurant, having started her cookery career later in life after having cooked at home, starting with home catering.
"The amount of processes I learned to reduce food wastage and save time in the kitchen while improving consistency in the food being created was so valuable. All the head chefs helped mentor me through the two weeks and their tips and the work experience, together with my cookery skills from class, put me much closer to my goal."
Emily Trinh also applied for the opportunity and recommends it to future students, "Working for the Australian Open is a not-to-be-missed opportunity for cookery students. You will come back to school with much better skills, efficiency, speed."
Also studying Certificate III in Commercial Cookery SIT30816, Emily was able to put her food skills to use preparing a variety of meals for the tournament and enjoyed the variety of work, building her experience for her career.
"Being able to positively contribute to one of the largest international sports events in Melbourne, I got to work at many different roles in the kitchen along side experienced and even world class chefs, apply what I have learnt at William Angliss and occasionally get to see a few well known tennis players," said Emily.
Senior Manager - Human Resources at Delaware North, Michael Crow, said, "The Delaware North team was delighted to be able to attend the William Angliss Institute campus and meet with students to talk about opportunities at the Australian Open. Students are still enjoying working with Delaware North as we ramp up for a busy events season in Melbourne; work opportunities remain available across Melbourne & Olympic Parks, Marvel Stadium and the MCG."
The Careers and Employment Office coordinates many opportunities for students to participate in rare experiences and major events. Other opportunities include working at the Spring Racing Carnival, Melbourne Food and Wine Festival and Australian F1 Grand Prix. Students are encouraged to check in regularly for these amazing ways to build experience.
Published 16 February 2022