Diversity and creativity features at product showcase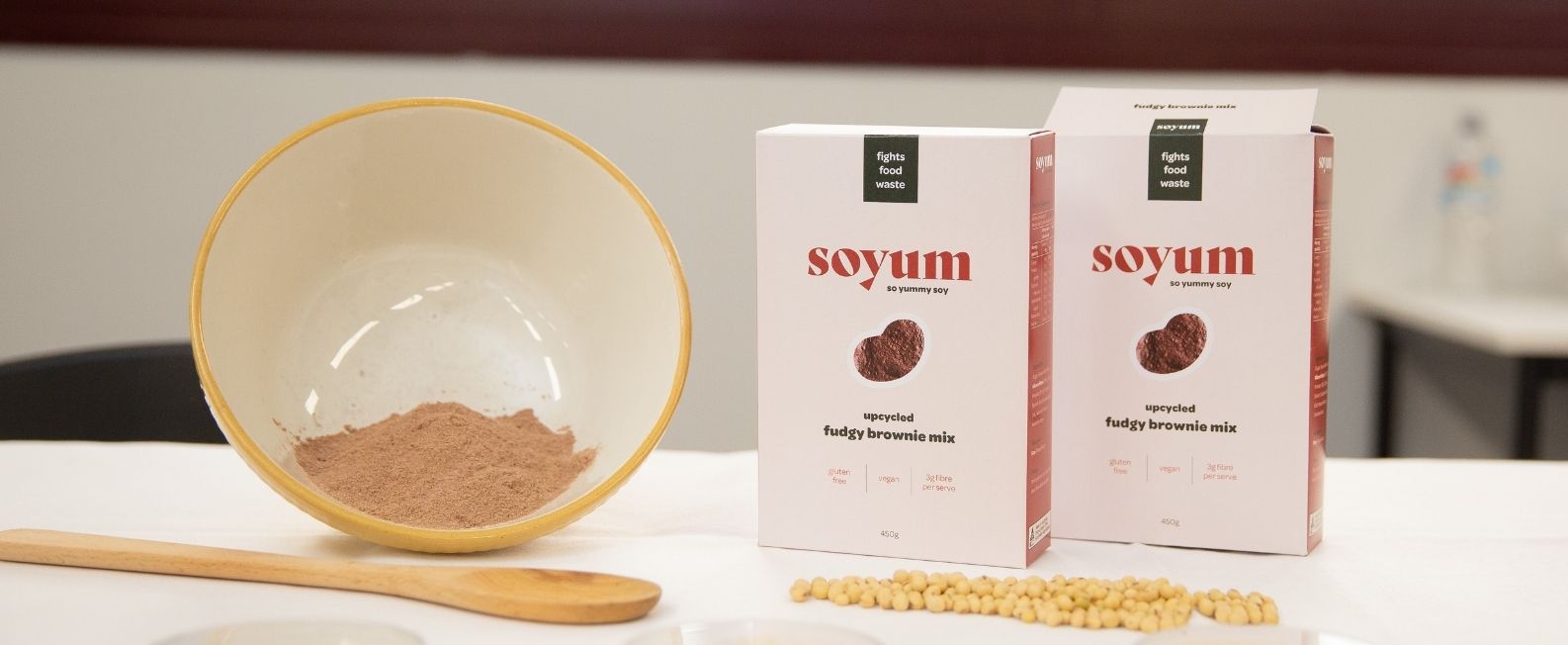 This year's Student Product Development Showcase for Diploma of Food Science and Technology students at William Angliss Institute featured sweet treats and desserts flavoured with native ingredients through to green oils and whey beverages.
All final year students from the Diploma of Food Science and Technology participated in the major assessment piece, a student product development showcase, and were assessed by industry experts Martin Eagle, Business Manager at Halcyon Proteins and Allan Poynton, Director at Poynton Associates.
The overall winner, sponsored by Gelita Australia, was Kitty Lo with her okara-based brownie ready mix.
Kitty said she initially looked into miso because she wanted to develop something with umami flavours.
"Upon further research into soybeans I learnt about okara, which is a by-product of soymilk production. Okara usually ends up as animal feed or in landfill but it's a nutritious product that contains a good amount of protein, dietary fibre, vitamins and minerals," Kitty said.
"I wanted to help fight food waste so I developed a flour from the okara which I used in my final product—a gluten free and vegan brownie mix.
"Through the Product Development unit I was able to understand and appreciate the numerous areas of development that are required to launch a product into the market," Kitty said.
Runner up in the showcase was Nicole Lin with her bacon ghee and third prize was awarded to a mandarin flavoured whey beverage made by Althea Miclat.
Food technology teacher Suresh Vaidyanathan said this product development project required a multi-disciplinary approach to cover product concept, formulations, all technical aspects to produce it in a manufacturing environment ensuring food safety and quality, cost, packing and sensory analysis experiments.
"The students can then present this project as part of a resume to potential employers who can see from the quality of this work what they are capable of," Suresh said.
Students displayed their products, offered samples and talked about the process of developing their product from idea through to final delivery.
They were assessed based on the entire scope of the project, including whether the product had the potential to succeed in the marketplace if they had delivered sufficient description of the manufacturing equipment, completing a shelf-life test, a cost analysis and a mock-up of the package with labelling requirements to meet FSANZ standards.