Industry experts support events students through guest speaker series
Remote learning hasn't slowed down our events students and teachers - the reality is quite the opposite!
This semester, Diploma of Event Management teachers Sandra Grima, Julie Rayner and Silvana Madia joined forces to bring to life event management essentials including leadership, sponsorship and legal with a stellar guest speaker series lineup. Students were engaged and inspired by Peter Jones, Managing Director of Peter Jones Special Events, Lucy Morris, Partnership Manager at Secret Sounds and Casey Bonacci, Director of Casey Bonacci Events.
Peter Jones - Peter Jones Special Events

With over 30 years of experience, Peter Jones boils it down to 'unexpected moments with a lasting impact' as the key to a successful and memorable event. During his presentation, Peter highlighted case studies of how Peter Jones Special Events won event pitches by placing creative and strategic perspectives first.
In 2011 Peter Jones Special Events won the hearts of Cadel Evans's management to host the official homecoming ceremony for Cadel after he won the Tour de France. Peter Jones Special Events started their creative process by looking back to where Cadel started his cycling journey, then as part of the pitch, Peter approached over 200 cycling clubs where they gathered over 1,200 letters from young cyclists expressing how much it would mean to them to ride with Cadel in Melbourne. Fifty enthusiastic cyclists across all ages were given the once in a lifetime opportunity to ride along with Cadel from St Kilda to Federation Square.
Peter concluded his talk by sharing what he thinks the industry needs most right now - the ability to lead and the passion to be the source of new ideas and experiences. A new generation that has a vision and the thirst to innovate.
"This is your chance to be a part of it. It's a challenging time, but an exciting time too. When the industry bounces back, it'll be bigger than ever," he said.
Lucy Morris - Secret Sounds
We can thank Secret Sounds for creating some of Australia's most successful musical festivals, Splendour in the Grass and Falls Festival. Partnerships Manager Lucy Morris gave students a peek behind the curtain to demonstrate what makes a successful brand partnership.
A recent brand partnership delivered by Lucy and her team at Secret Sounds was THE ICONIC Laundromat activation across Falls Festival and Splendour in the Grass in 2018 & 2019. Secret Sounds crafted an end-to-end festival campaign for online fashion retailer THE ICONIC, including on-ground activation, talent engagement, creative and content. The partnership was a huge success, landing Secret Sounds the 2019 New York AdWeek Award for 'Best International Experiential'.
How can one make sponsorship mind-blowing? Lucy explained how to elevate the sponsorship and partnership experience.
"It's important to do your research before approaching a brand. Make sure you understand what they stand for, any recent marketing activity etc. Try and make your own initial judgement on the brands current positioning and target demographic. This will allow you to form your own initial ideas on how this brand could work with your festival or artist" she said. How can your event help their marketing goals? Apart from meeting your own objectives, you also need to care about what they want to achieve. Drill down their 'why and how' before proposing a set price or asking them for their budget.
If you're passionate about events and would like to work in this industry, Lucy has two words for you, 'get excited'!
"It'll be back, and when we're back, it'll be massive! It's actually a great time to study because, by the time you can work, there'll be a lot more opportunity out there," Lucy said.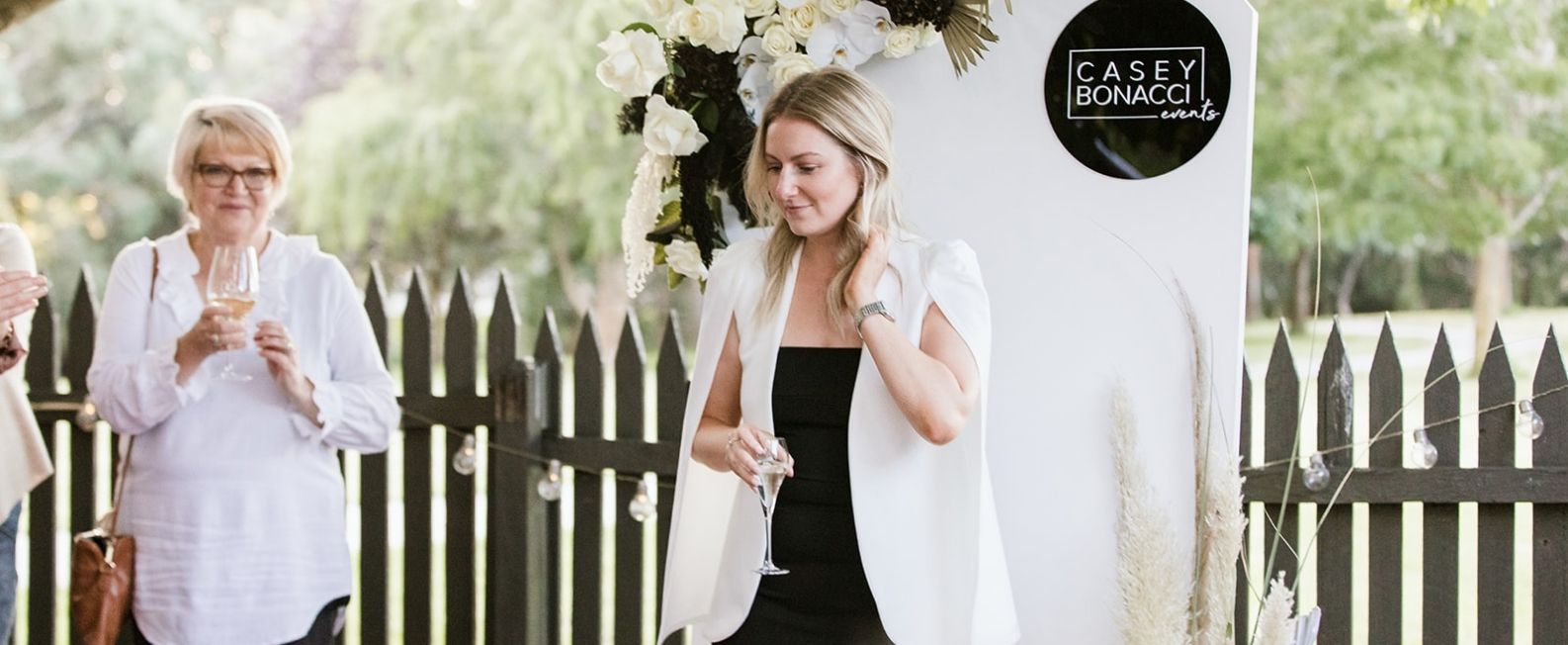 Casey Bonacci - Casey Bonacci Events
Casey Bonacci is a proud Angliss alumni with over ten years of event management experience. Before starting her own business, Casey's resume was filled to the brim with positions at The State Library of Victoria, Federation Square, Event Agencies, Venues in London and more. With a lot of her events being held online or postponed to a later date, Casey understands how unsure many students may feel, but she encouraged them not to be afraid as she believes the industry will be back on its feet soon.
"Take any and all opportunities that come your way and never stop flearning (failing and learning)! Although you might not be able to volunteer at live events now, see what other opportunities are available. Can you assist with an online event? Maybe event marketing or audiovisual? Get creative and think outside the box," she said.

And as many are still working from home, Casey thinks it's a great time to practice your communication skills. With limited face-to-face time, it is an art to communicate your ideas clearly and get the job done.
"Be open and transparent with your employer, team, staff, suppliers, and clients with what you are trying to achieve and why. They say communication is key but it's only effective if you can clearly and concisely say what it is you're wanting to achieve," said Casey.