Angliss students awarded Chilean wine tour
Two Angliss students - photographed here with worlds 50 best restaurants' Borago owner/chef Rodolfo Guzman - enjoyed the experience of travelling and studying in Santiago, Chile for two weeks awarded the Lopez-Lochert Scholarship.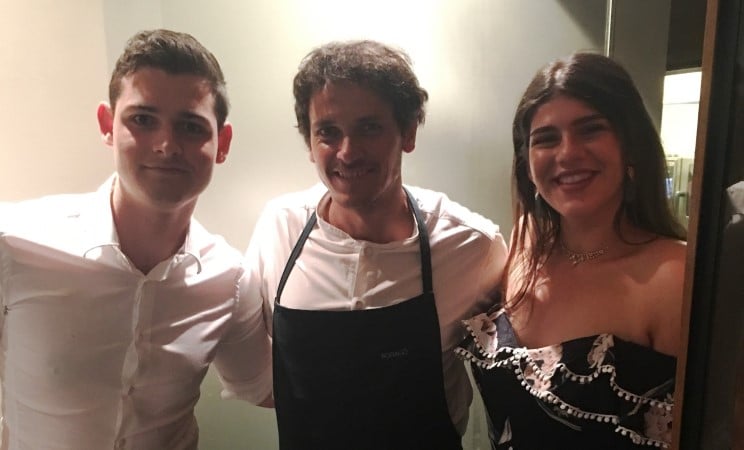 The Lopez-Lochert Scholarship offered local TAFE students the opportunity to complete a course in business or hospitality in Santiago, Chile, and was offered by the Victorian Government in partnership with Victorian TAFE Institutes.
Lecturer Ian Frost travelled with the selected students John Waterfall and Georgia Christianos and they did a hospitality course called 'World of Chilean Wine'.
"The course covered the production processes of Chilean wines, evaluation of styles as well as the principles of food and wine matching. The classes deepened our knowledge of the characteristics of Chilean wines during tasting workshops and trips to nearby vineyards," Ian said
Georgia is about to commence her final semester of a Bachelor of Culinary Management.
"Working at Crown as a bartender and supervising Belles Hot Chicken; a casual-dining restaurant (serving Nashville-style crispy chicken and natural wines), has meant being exposed to wine both at work, and through my classes at Angliss.
"This meant I already had a good working knowledge of wine and a keen interest in the subject, which I think really allowed me to get the most out of the World of Chilean Wine course.
"The best part of class was undisputedly the food and wine pairing aspect -we had the opportunity to try a selection of some of the best wines produced in Chile, and pair them with dishes prepared by student chefs," Georgia said.