Culinary techniques honed during butchery masterclass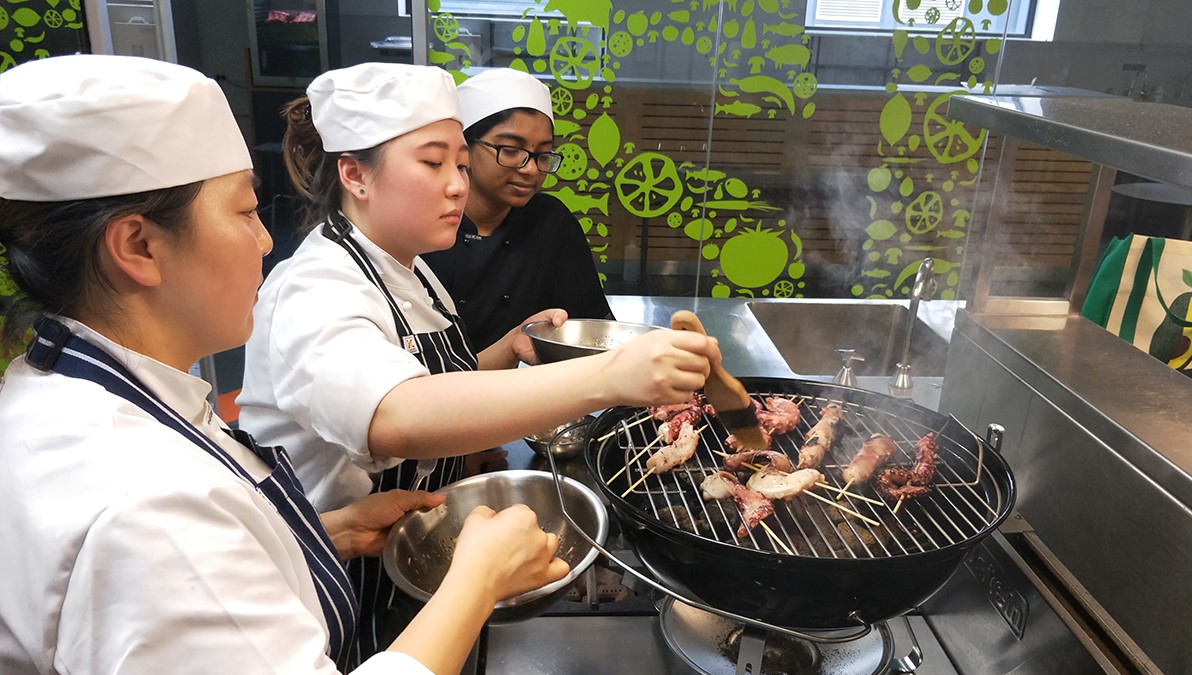 Learning the best ways to break down a lamb, pork and beef carcass and the most suitable techniques to cook the meat to perfection was the goal of a collaboration between Angliss' meat processing and higher education departments held recently.
The masterclass, run by Meat Processing teacher and chef, Peter O'Rourke, enabled a group of Culinary Management degree students to learn not only how to cook but why to cook. Chef O'Rourke's expertise along with the commentary on why meat from a particular cut is tender or tough, lean or fatty, allowed the students to understand the appropriate method of cooking technique in real time.
Using a full carcass of lamb, a side of port and an argie of beef (on the bone), the students were first taught that the right cooking method is decided based on which part of the animal the meat came from and then which method of cooking will give the best results and why. Choosing the correct accompaniments for the meat were also taught by looking at the meat texture, fibre and fat content.
Culinary Management lecturer, Rajiv Gulshan, explained, "For the two weeks following the masterclass, the students used their knowledge gained to cook meat appropriately for the best outcomes, with leaner cuts accompanied by a simple herb butter while the lamb cutlet was grilled and given a light herb jus."
Before the session, the students were shown meat charts and video clips of meat butchering. The masterclass then involved a live demonstration and considerable time with Chef O'Rourke who explained both the butchery and cooking techniques in great detail.
One student commented, "The movie was great but the interaction with Peter allowed me to ask questions and take pictures. He is a very patient teacher, showing us a number of small techniques such as how to lift the full carcass to avoid injuries which was not covered in the movie. I am now able to approach meat much more confidently – I study the piece, looking at the grain, checking the fat content and the size, then decide how to cook it and what to serve it with."
Further collaborations across departments to transfer expert knowledge to students are being planned for the rest of the academic year.