Indigenous culinary masterclass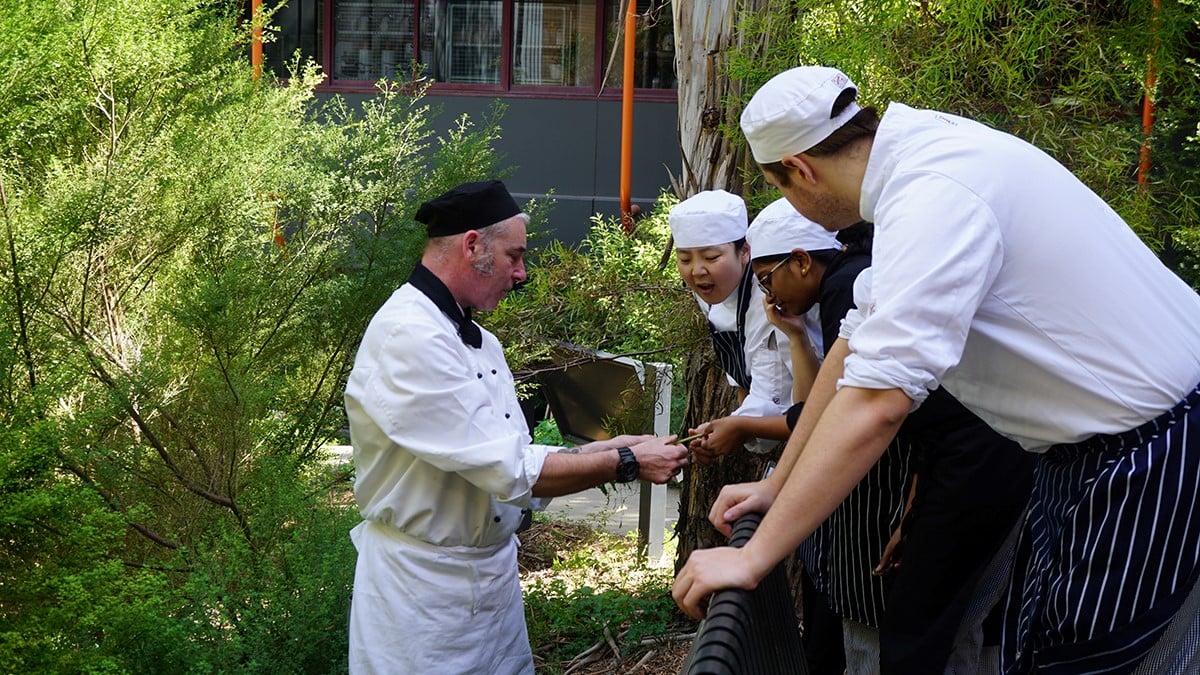 Angliss Cookery Teacher Jason Goldingay recently conducted an indigenous ingredients masterclass for a class of Bachelor of Culinary Management students in the Angliss Raingarden, followed by a three-course lunch featuring the herbs and plants foraged during the masterclass.
Chef Goldingay explained the impact seasons have on ingredients used in indigenous cuisine and offered the students the opportunity to taste the unique flavours of Kakadu plum dust, lotus root, quandong, sandalwood nut and wattleseed.
"Most students were amazed at the variety of components in indigenous cuisine and their relation to the seasons and nature," Chef Goldingay explained.
Following the session in the raingarden, Chef Goldingay then prepared three dishes to showcase the foraged ingredients.
The entree dish was preserved King Ora salmon with spring onion, finger lime, pickled mustard seed, wild dill, river mint and buttermilk. The main course dish featured wallaby tartare with wattleseed, sandalwood nut, Davidson and Kakadu plum with quandong. The final course was a dessert of eucalyptus sponge, labna, bee pollen, billy tea and Peninsula honey gel with saltbush and macadamia.
"All the students were intrigued by the natural balance represented in each dish," Chef Goldingay said.
The Culinary Management degree students are looking forward to learning more about Australia's rich indigenous culinary history throughout the semester.