Tourism Alumni follows her passion in the Yarra Valley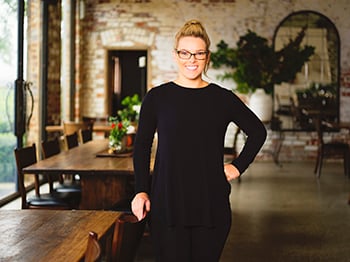 Tourism and Hospitality Management Degree graduate Kara Waterworth has followed her passion for the hospitality industry and is now working as event sales coordinator at the Yarra Valley's premiere food and wine destination, Stones of the Yarra Valley.
Kara has been working in the hospitality industry since the age of 16, and graduated from William Angliss Institute with a Degree in Tourism and Hospitality Management in 2014. The hard work and industry skills gained through Kara's studies at the Institute have proven to be the foundation for her successful career so far.
"The Tourism and Hospitality Management Degree provides a wide range of subjects, developing multiple skills, which gives us the opportunity to excel in the industry. A few areas in the degree that I found to be valuable focused on understanding your surroundings and also global and tourism industry trends. To be able to have the skills and knowledge to adapt to these trends helps you to be successful within the tourism and hospitality industries."
Kara said studying at William Angliss Institute was a great starting point for her career.
"Due to the boutique nature of all its qualifications, the Institute always provides the support and guidance that is needed to succeed. I would tell anyone considering studying at the Institute, to follow your passion! And if you haven't chosen your career destination, William Angliss Institute provides a wide selection of subjects within each qualification which showcase other avenues in the Tourism and Hospitality degree."
Being in the beautiful surrounds of the Yarra Valley is just one of the many rewards that Kara receives for her enthusiasm and determination.
"Working in the Yarra Valley is everything I could dream of. As I drive up the driveway each morning at Stones of the Yarra Valley I know it's going to be a great day! Being surrounded by gorgeous vineyards, lush trees and working with a wonderful team makes me so grateful for the opportunities that I have been given. It's like being in one big family, all of the businesses collaborate together to increase tourism within the region," Kara said.
At the forefront of events, Kara has many opportunities to conceive and implement exciting and distinctive experiences for Stones' guests.
"Every event at Stones is special and unique. It's always very exciting being part of large exclusive events, which run for several days and utilise all the spaces on our beautiful property. Seeing each client's creative ideas, making them reality and ensuring a special experience for each guest is absolutely memorable!"
For the future, Kara is focused on refining the knowledge and experience she has gained so far, "My ultimate goal over the next few years is to continue strengthening my organisational skills and to coordinate stunning events at Stones of the Yarra Valley and Meletos."