NGV Garden Restaurant welcomes Angliss alum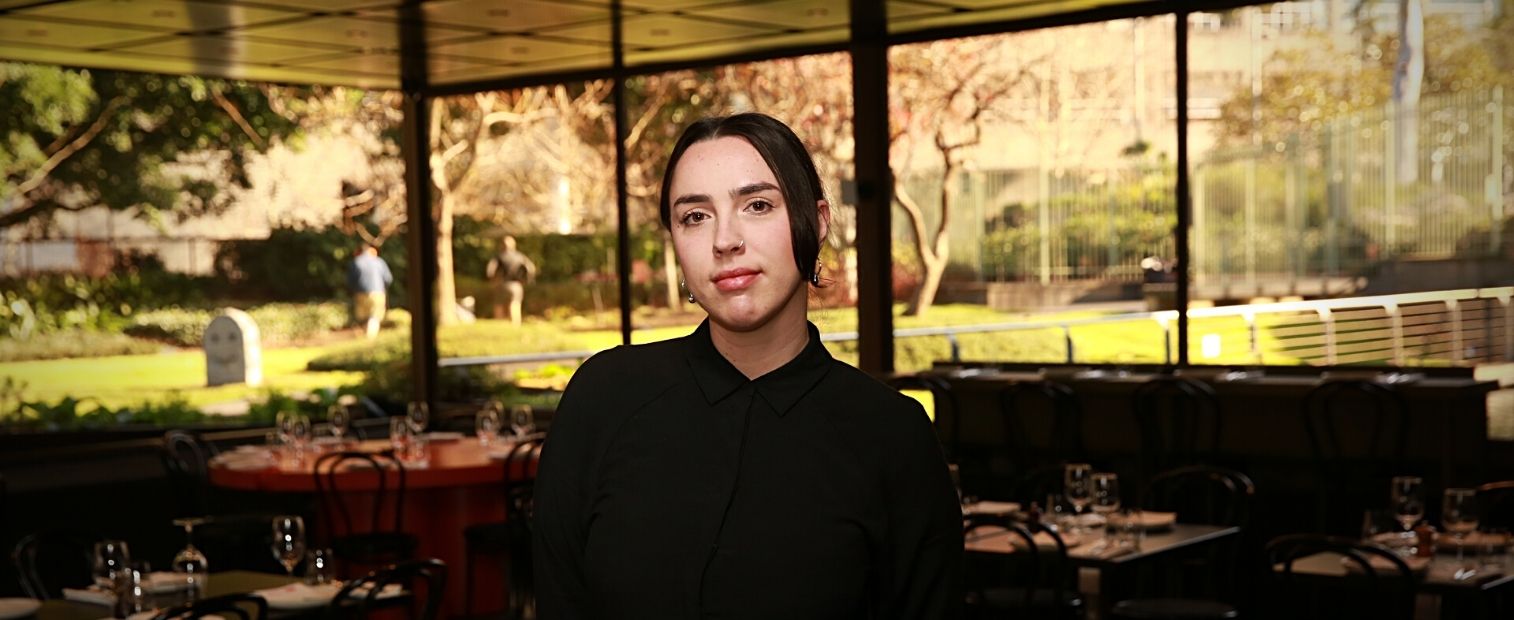 Ensconced within Melbourne's famous Arts Precinct is the National Gallery of Victoria's esteemed Garden Restaurant. The venue offers a fine dining experience for corporate events, intimate services, wedding receptions and exclusive cocktail functions.
After William Angliss Institute alum Jessica completed a Diploma of Events Management she was ecstatic to have been offered the role of Sales & Events Planner for Restaurant Associates. This company offers contemporary world class fine dining, catering and project management services to the National Gallery of Victoria (NGV) and other prestigious clients across Australia, including Old Parliament House (Canberra), Sydney Town Hall, National Gallery of Australia (Canberra) and Melbourne Zoo.
Jessica likes working around art and how every day is different. She said, "I love seeing the variety of different events and working around art is pretty special. Seeing couples happy on their wedding day is really fulfilling too. I also really love working in creative event spaces and around food and wine."
Jessica's Angliss studies assisted her in gaining the position. "The course helped me make the leap from the front-of-house hospitality, to getting into the office and making my own network with clients," she said.
"I always knew Angliss was renowned for excellence and practical experience when it comes to events and hospitality, something that I believe is essential to breaking into the industry. Choosing Angliss was also spurred on by past employers, who'd prefer to employ staff who had trained at the Institute."
Jessica enjoyed the Institute's hands-on approach to learning, the networking opportunities and the knowledgeable teachers. She said, "The staff have incredibly valuable experience and have so much to offer in terms of passing knowledge on, they are serious events professionals."
While at Angilss, Jessica really enjoyed running her own events "It really put the skills we learnt in the classroom to practical use. I also really loved the guest speakers and hearing the stories from all aspects of the industry."
One of Jessica's best memories of her time at Angliss was going to Singapore for a week, as a part of her curriculum. She recalls it as being, "Such a valuable and cool experience."
She added, "Don't be afraid to ask the little questions and be super clear if you need clarification!"
To find out more about Diploma of Events Management, visit Diploma of Events Management.
Published 15 August 2022