Patisserie students hot on the trail of success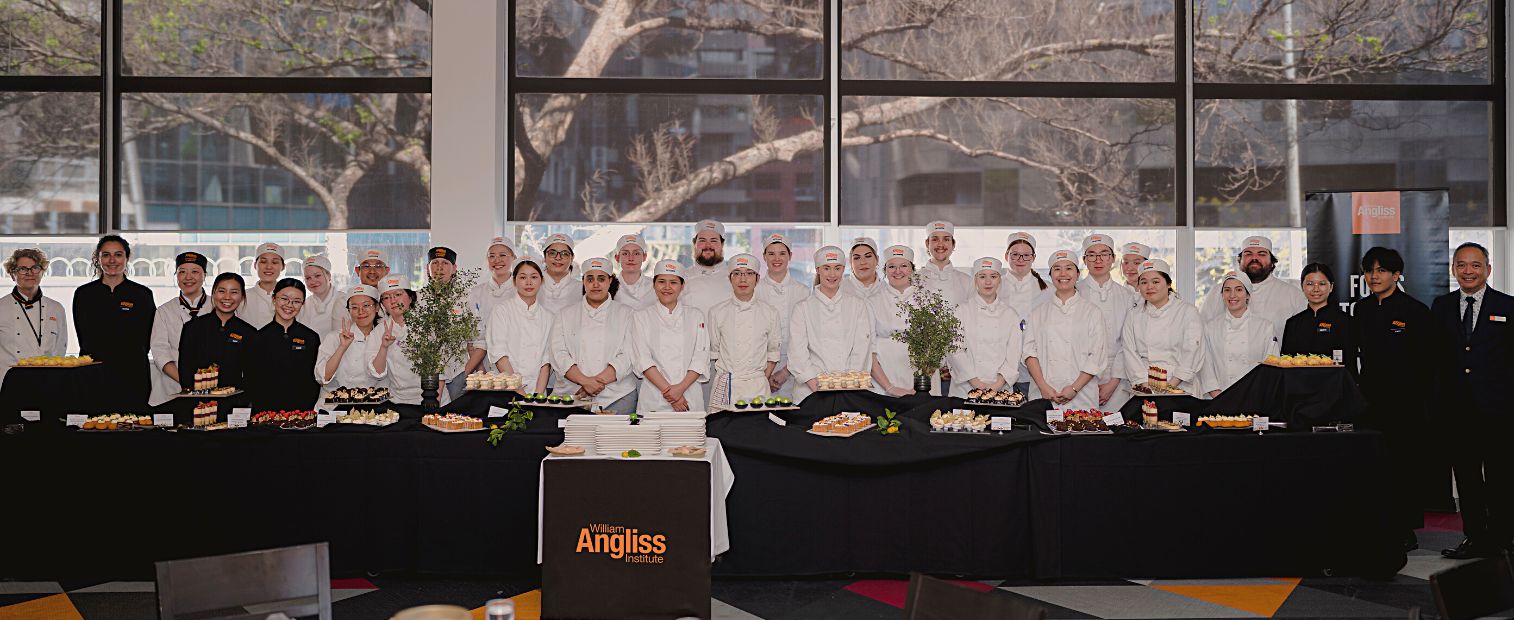 Angliss Patisserie High Tea: Follow the Spice Trail merged the brightest students from Foods, Hospitality and Events, to showcase their expertise to the wider Angliss community in this much-anticipated event.
This year's theme, Follow the Spice Trail, celebrated colour and bold flavours through the use of exotic spices from all over the world and native Australian ingredients. Patisserie teachers worked closely with the students to create desserts, which produced an exciting buffet featuring dishes for the opulent dining experience.
Students developed recipes, practiced techniques, and served a bounty of delectable culinary creations like the sumptuous savory canapes, mini tortes, delicious mousses and bite sized cakes. Guests were greeted with an Angliss signature mocktail or cocktail on arrival to allow the revelry to begin.
Each table, including the buffet counter, featured the lavish table styling work of Events and front-of-house Hospitality students, with an assortment of edible decorations, gift bags and a smattering of spices like cinnamon sticks and red peppercorns to visually galvanize the 'spice trail' theme.


View this post on Instagram

This event was the very first public dining experience for Diploma of Hospitality Management (SIT50416) students as they had only commenced study three weeks prior to the occasion, yet the enthusiasm and commitment to skills learnt for front-of-house service was exceptional.
Certificate IV Patisserie (SIT40716) students were set the challenge of using ingredients that are traditionally savoury, like mountain pepper, for the strawberry torte, pumpkin for the canapés (no surprise so close to Halloween), and cardamom for the spectacular sugar spheres where the toffee cracked like fine glass or crème brûlée. Yum.
Patisserie and Bakery Program Leader, Bhaskar Adeeb, said, "Students of the final stage of Certificate IV Patisserie (SIT40716) were part of the Annual Patisserie High Tea, where they were able to use their skills to conceptualise and plan this event. This celebrated their learning and experience at the Institute and provided a unique opportunity to function in an industry simulated environment and hone their abilities."
At the front line was Patisserie and Bakery Teacher Susan Carey who remarked, "Our students thrive on the opportunity to showcase their newly acquired skills and knowledge to family, friends and the general public. Many hours are devoted to trialling recipes and presentation options to arrive at the perfect product. It gives students a great sense of pride and accomplishment, a very positive conclusion to 18 months of hard work."
Distinguished guest TAFE Ambassador, Member for Eastern Metropolitan Sonja Terpstra MP sampled the delicious desserts, was taken on an Angliss Indigenous Culinary Garden tour and perused the campus' latest facilities with the Institute's CEO Nicholas Hunt.
The Angliss High Tea: Follow the Spice Trail was an important training event, which nurtured emerging Angliss talent. The extravagant afternoon tea was staged at the Angliss Restaurant, which is our on-campus training facility open to the public during the semester for lunches and dinners.
To learn more about our courses, or to enrol, contact study@angliss.edu.au or call 1300 ANGLISS for further information.
For Angliss Restaurant bookings and events, visit Angliss Restaurant or contact 9606 2108.
PUBLISHED 11 NOVEMBER 2022