Food Science, a launchpad for food innovation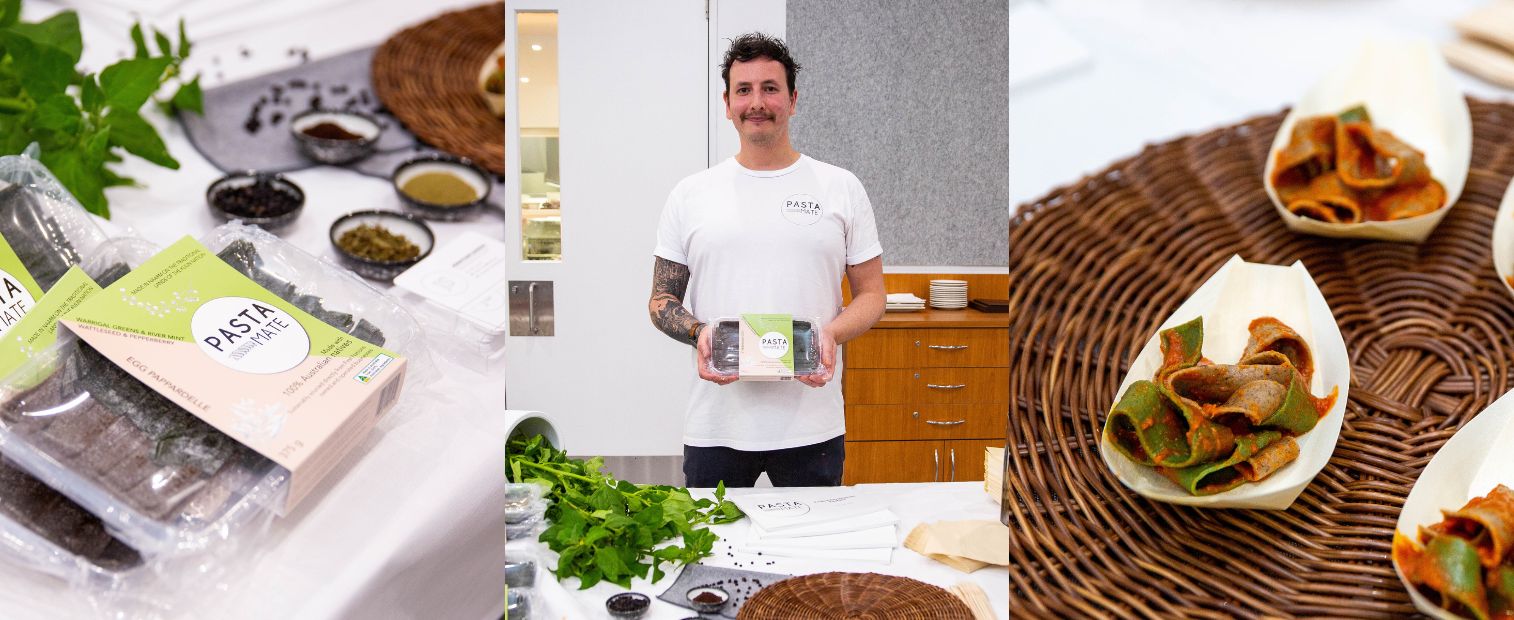 This year's Diploma of Food Science and Technology (FBP50121) Student Product Development Showcase featured a wide range of innovative food products, from wellness drinks featuring colostrum, collagen and natural flavours, to a range of plant-based products in the forms of crackers, sauces and beverages.
For their major assessment, students were tasked to develop a new food product. The process required a multidisciplinary approach to exploring product concepts, formulations and technical aspects, and then producing the product in a manufacturing environment, ensuring food safety and quality. Cost, packing, and sensory analysis experiments were other elements explored. This practical assessment let students experience end-to-end food product development whileencouraging them to explore their culinary interests.
This year, Jonathan Sasson won first prize with his unique pasta product, 'Pasta Mate'. Since completing his chef training at Angliss in 2020, he had become curious about native ingredients. The process enabled him to incorporate these ingredients into a supermarket-ready product, conscious of sustainability.
Jonathan incorporated inspiration from industry leaders such as Mabu Mabu's Head Chef Nornie Bero for her striking dishes.
"Her dishes highlight native Australian ingredients in modern and surprising ways. Her menu pairs natives with classic, worldly dishes we know well; think saltbush slow-roasted lamb shoulder with Warrigal greens, kangaroo tail, and pepperberry bourguignon," said Jonathan.
While ingredients such as lemon myrtle and finger lime have taken off in restaurants, Jonathan noticed they had yet to make as big of an impact in the mainstream food retail space. He took this as a challenge as he approached the Student Product Development Showcase assessment.
"A walk through one of the big supermarket chains will reveal very few products containing native ingredients, and probably fewer than 10 when you exclude macadamias. Pasta Mate is ultimately a fusion of cuisines that many may find surprising - although when you taste it, that surprise quickly becomes enjoyment," Jonathan said.
"Getting the product out and talking to people about our amazing natives has been the most rewarding outcome. Once people sample Pasta Mate, they want to learn more about ingredients you can find right on our doorstep, and it starts a conversation that leads to changing minds. Eventually, this little snowball will become an avalanche, and I'm thrilled that's a small part of my legacy."
Through Pasta Mate's development process, Jonathan gained various invaluable insights, including how to ethically source his ingredients.
"Currently, only one percent of native food dollars are generated by First Nations Australians (ABC Rural), which I think highlights a terribly imbalanced market tied to poor outcomes for First Nations people. I wanted to ensure that I sourced my ingredients responsibly. Some of the steps I took were sourcing my native ingredients from First Nations-owned and operated businesses, and the suppliers I worked with support traditional (sustainable) farming and foraging practices. Lastly, food theft, food fraud, and wage theft must not be a feature of any step in the supply chain."
If you're interested in developing food products you have yet to see on supermarket shelves, but you don't know where to start, here's what Jonathan thinks:
"If you're a chef looking to understand food in a new light, the Diploma of Food Science and Technology (FBP50121) is a great avenue. Having completed another course at Angliss then moving across, cookery showed me the 'what' and 'how' of food preparation; food science taught me the 'why'."
"On the flip side, if you're not a chef but are curious about where your packaged foods come from, how they can last as long as they do on shelves, or if you've ever thought about making and releasing a product of your own, this course will confidently guide you through all of that."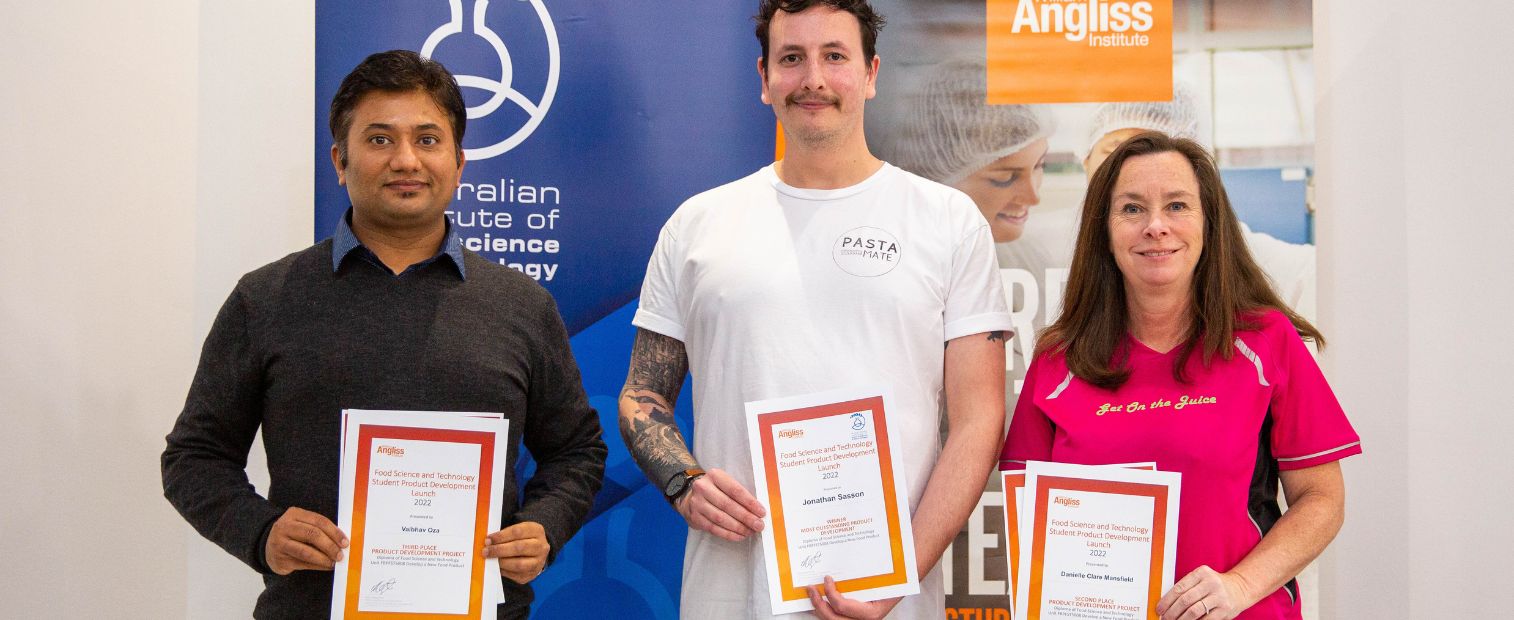 (L-R): Vaibhav Ozha, Jonathan Sasson and Danielle Mansfield

Sponsored by the not-for-profit industry body, Australian Institute of Food Science and Technology (AIFST), the students' products were assessed by industry experts Martin Eagle, Halcyon Proteins Business Manager, and Poynton Associates' Director Allan Poynton. Student Product Development Showcase winner Jonathan Sasson was awarded a one-year graduate AIFST membership, an opportunity to attend the AIFST 2023 Summer School and an invitation to AIFST's 2023 Convention.
Danielle Mansfield was awarded second place with her 'Get on The Juice' beetroot endurance drink, followed by Vaibhav Ozha's air-fried mung beans which were awarded third place.
For more information about the Diploma of Food Science and Technology (FBP50121), or enrolling at Angliss, contact us at +613 8595 5334 or enquiry@angliss.edu.au
Published 12 December 2022