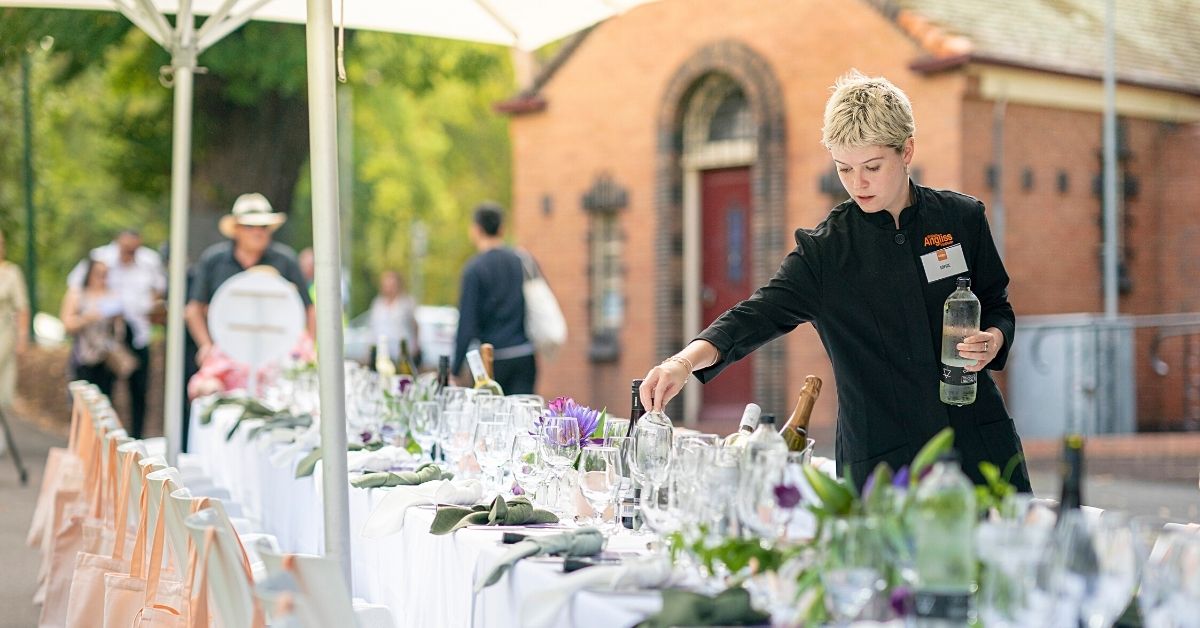 William Angliss Institute staff and students help more than 1,600 festival fans celebrate the return of the Melbourne Food & Wine Festival (MFWF) by serving a mouth-watering spread at the World's Longest Lunch.
The sell-out event featured a three-course menu showcasing Victorian wine and produce designed by Melbourne culinary masters Stephanie Alexander, Jacques Reymond and Philippe Mouchel.
Served in Melbourne's beautiful Treasury Gardens along 500 metres of tables, William Angliss Institute events, foods and hospitality students gained valuable hands-on experience from this major event.
With the cancellation of the 2020 MFWF due to the pandemic, the 2021 Festival doubled the decadence this year and added the World's Longest Brunch to the lineup. When Angliss alumni and Mulberry Group CEO Nathan Toleman was approached to collaborate on the brunch, the Melbourne café connoisseur didn't hesitate. "It's been a tough year for Melburnians so we wanted to work with the Festival to bring the city back to life through what we do best: hospitality," he said.
William Angliss Institute has a long-standing relationship with MFWF and has been a partner of the festival for over 14 years. Bachelor of Hotel and Resort Management student Kannitha Jurilla said, "I learnt that it takes a lot of people to orchestrate a huge annual event for it to run smoothly. This is a tough industry we need to be quick on our feet to solve problems no matter the conditions."
The festival runs until 31 March.