The Australian Cuisine Begin Cookbook, more than just recipes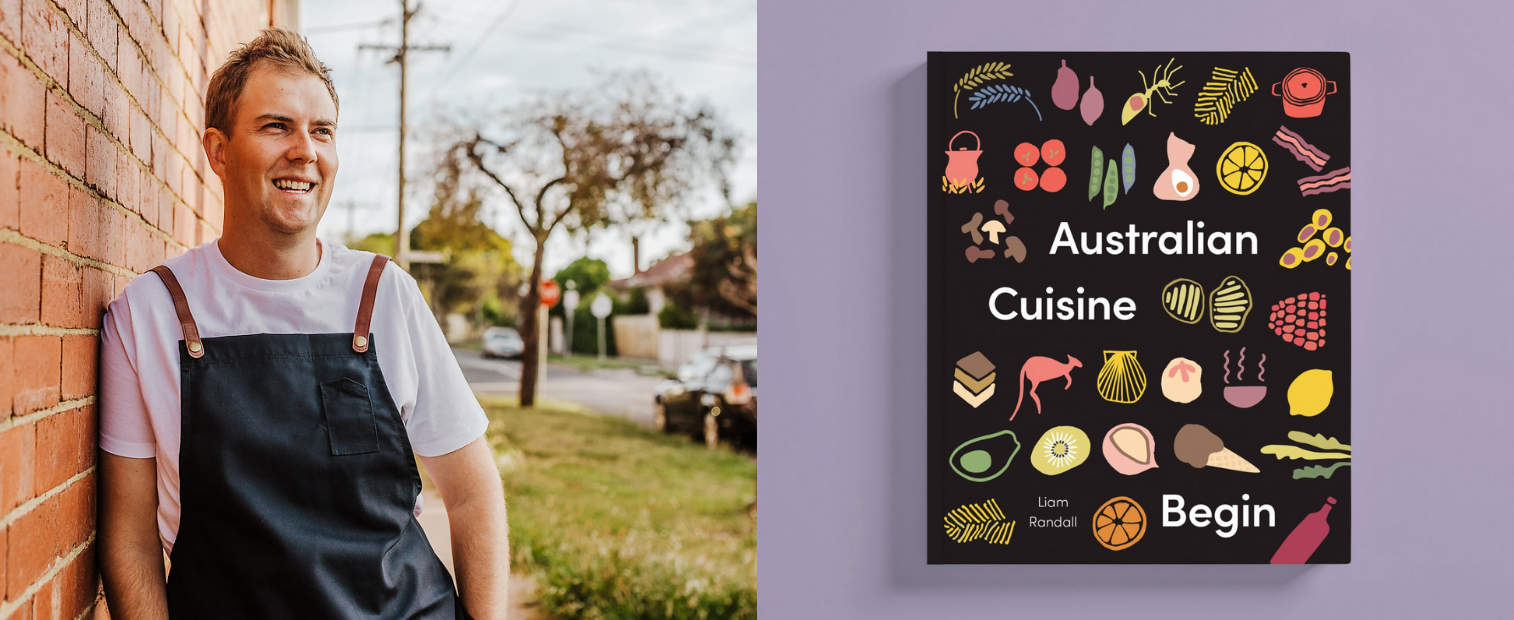 If we ask you to name an Australian cuisine, what do you think of? Vegemite on toast, lamingtons or even fairy bread maybe? Great news, there's a lot more to it! In his debut cookbook, Angliss Alumni, Liam Randall shares the history of Australian cuisine. He features elements of Indigenous culture, recipes from European settlers through to the iconic Tasmanian scallop pie.
Liam's story started like many Angliss cookery students, it's all about the love of food and cooking. Since completing his Cookery apprenticeship in 2013, Liam has cooked alongside industry-leading chefs at Vue de Monde and Donovans.
"I remember our teachers told us to stick it out. It's that lesson in perseverance that resonated with me most. The Institute has a solid foundation, passionate teachers and students willing to apply themselves, and this makes for a great culture for learning together."
After a couple of years working as chef and travelling around Europe, Liam decided it was time to step outside of his comfort zone and explore his lifelong curiosity for Australian cuisine!
"Growing up in Australia we've always been told we don't have our own cuisine. It's something that back then I accepted and went along with like we all do."
"During my time as a professional chef, I was cooking European food in Australia and all I wanted to do was cook, feel and explore being myself, Australian."
The calling to explore Australian cuisine was so great, Liam quit his full-time work and travelled around the country, hoping to piece together Australia's unique and historically rich food culture. Since the start of the project in 2015, he was met with a string of challenges and it wasn't until a visit to Canberra his luck started to change.
"I started by finding answers to fundamental questions such as what is a cuisine, how are they formed and how do you create a cuisine. Read a mountain of books at the National Library, visit museums and other culturally significant places, anywhere that could teach me about Australian culture and cuisine."
That was the seed which eventually turned into Liam's debut cookbook Australian Cuisine Begin.
"I was happy to learn that we do have our own cuisine! However, there's more room to grow for it to become more varied and complex."
"Through the book, you'll learn about our culinary history through seven major timelines where you'll be able to practically apply it all through cooking the recipes."
Liam hopes to share his findings and inspire aspiring chefs and historians to give Australian cuisine a go!
If you're ready to serve your first plate of Australian cuisine, you can head over to Liam's website where he generously shared nine recipes. To start, Liam recommended the Australian Meat Biscuits. He's kindly shared the recipe with us for you to try at home: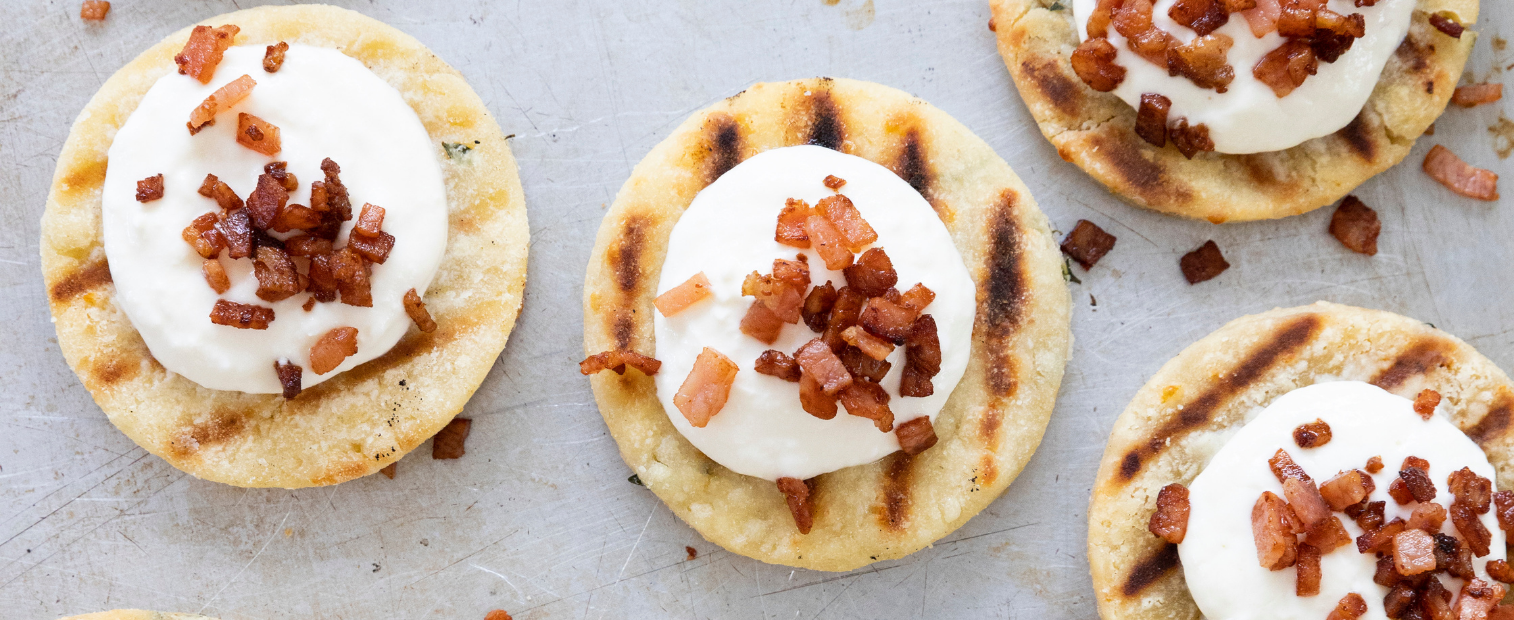 Australian meat biscuits
Makes: 10
Preparation time: 30 minutes
Cooking time: 40 minutes
Ingredients
Directions

1 small desiree potato (about 115g), peeled and chopped
150g (1 cup) plain flour, sifted, plus ¼ cup extra for dusting
60g unsalted butter, finely chopped
50g (½ cup) finely grated vintage cheddar
1 tsp native thyme leaves
1½ tbsp canola oil
200g streaky smoked bacon, finely diced
150g quark or cottage cheese

Place the potato in a small saucepan of cold water over high heat and bring to the boil, cooking for 5–10 minutes or until tender. Drain and mash until smooth.
Place the flour in a bowl and, using your fingers, rub in the butter until fine crumbs form. Add the mashed potato, cheese, thyme and a pinch of salt. Bring together with your hands until a dough forms. On a lightly floured surface, roll out the dough to 6mm thick. Cut out biscuits with a 6.5cm round biscuit cutter. Re-roll any excess dough and repeat the process until it's all used.
Preheat the oven to 200°C/180°C fan forced/gas mark 6/400°F. Heat a chargrill pan or barbecue over a medium heat and brush with the oil. Lightly dust each biscuit with flour on both sides and cook 5–6 minutes each side or until charred lines form.
Place biscuits on oven trays lined with baking paper and bake for 10 minutes or until cook through. Meanwhile, in a frying pan with a touch of oil, cook the bacon until almost crispy.
Place 1 teaspoon of quark or cottage cheese in the centre of each biscuit then sprinkle bacon over the top. Return the biscuits to the oven to bake for a further 5–7 minutes or until the biscuit is crisp and the quark is slightly melted. Remove from the oven and serve warm.
Liam's book is now available for preorder on his website.
Published 21 February 2022