Angliss grad serves up luxury grazing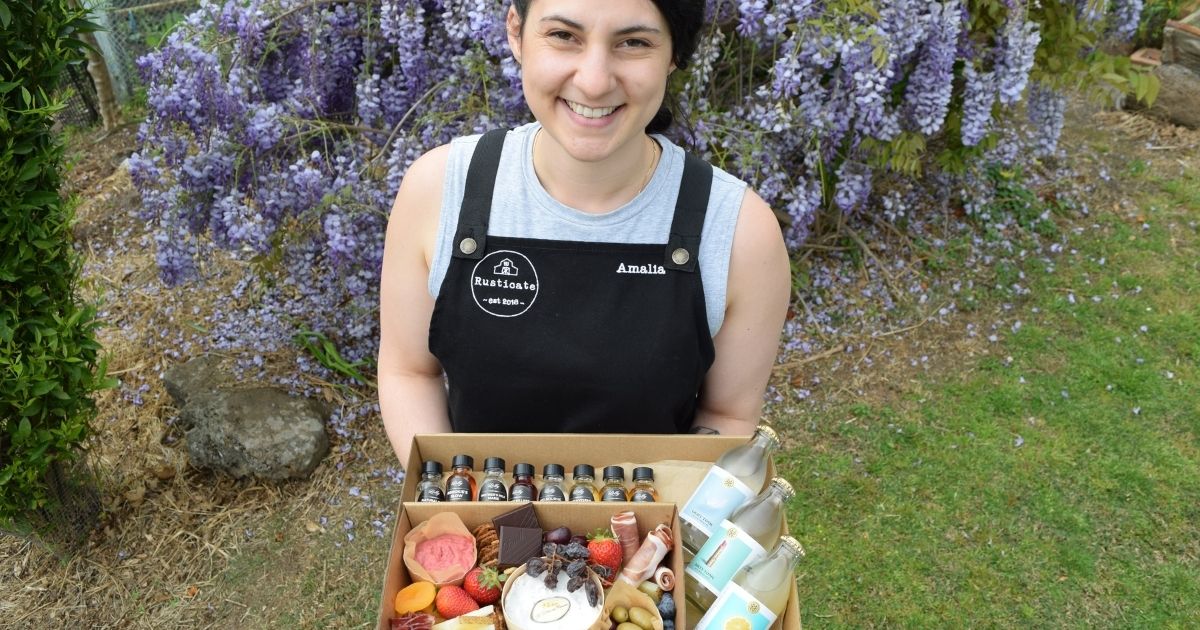 Graduate Amalia Kogoi started producing her own luxury grazing hampers and platters in her own business Rusticate Produce during the COVID-19 lockdown.
Currently managing a café while striving to grow her small catering business, Amalia, like many hospitality professionals, had to pivot during COVID-19. She has turned to creating luxury hampers featuring locally-sourced antipasto and fruits with a choice of gin or whisky tasting, and creating products such as gluten-free, nut-free vegan granola.
Amalia saw the Triple Diploma of Hospitality, Event and Tourism Management at William Angliss Institute in Sydney as the key to an exciting career in hospitality. Through hard work and enthusiasm, Amelia has turned this into a reality, and she has even more bright ideas for her future goals.
Before studying, Amalia had only considered hospitality as a way to make money while deciding what her 'real profession' might be. But a conversation with her cousin and his wife about their jobs in hospitality sparked an idea. Her cousin's wife spoke highly of her time at William Angliss Institute. Thinking about everything she loved about the industry, Amalia started an internet search which led her to the Triple Diploma at William Angliss Institute in Sydney and she applied straight away. After an interview the following week, Amalia's plan for her real profession was in motion!
Everything she learned at William Angliss Institute gave Amalia the confidence to start her own business.
"I am able to track my finances efficiently and I can create marketing strategies and put them into practice," Amalia said.
"Learning the importance of networking has helped my business grow faster than I could have imagined!" she said.
Enthusiastic trainers and small classes were the key elements of success during Amalia's study at William Angliss Institute.
"The teachers went above and beyond to ensure we had all the resources we needed to succeed."
"Being able to implement what we learned into real experience was instrumental. It ensured that we understood the theory on a deeper level, to think beyond the textbooks and problem-solve on the spot - a huge element of the hospitality industry," Amalia said.
Amalia's exciting journey through her hospitality career already has her thinking about her ultimate goal.
"Ultimately I want to expand my business, Rusticate Produce and Catering, have my own kitchen and be at the forefront of the catering industry. I would love to help other people looking for experience in the hospitality industry who have a willingness to learn."