Angliss hosts delegation from Timor-Leste
On Tuesday 20 August, the Honorary Consul Mr Peter McMullin, from the Consulate of the Democratic Republic of Timor-Leste (East Timor), visited our Melbourne campus.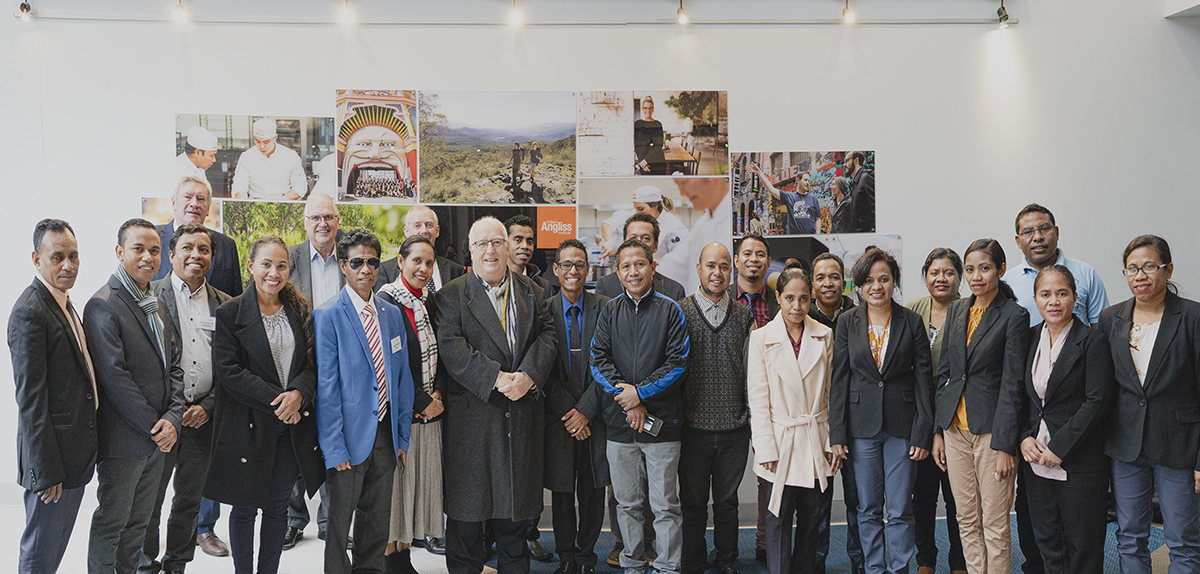 Attending a morning tea prepared by Angliss students, Mr McMullin met with CEO Nicholas Hunt, Director International, Wayne Crosbie, Manager for Strategic Project Development, Jim Irwin, and 20 Technical and Vocational Education & Training (TVET) managers and government stakeholders from Timor-Leste.
The delegates have been undertaking a three-week course titled 'Timor-Leste TVET Training Centre Strengthening Short Course Partnership Program', designed to help them enhance their TVET training centres back home.
Preparations for the short course included two Angliss consultants making a week-long visit to Timor-Leste to meet with program participants, government training authorities and Austrade. The findings of this trip were then applied to the course content before the program commenced at our Melbourne campus in early August.
Following completion of the course, Angliss will continue to mentor the program participants as they develop plans for strengthening their training centres in Timor-Leste. Two Angliss consultants will also visit the country in late October to provide continuing support.
With a history of delivering TVET projects in Timor-Leste, Angliss has forged a unique bond with its northern neighbours.
"Ten years after Angliss ran a training program for tour guides in Timor Leste, it's wonderful to see that our relationship remains mutually beneficial and helps to promote cross-cultural understanding," said Nicholas Hunt.