Angliss Student Product Launch 2021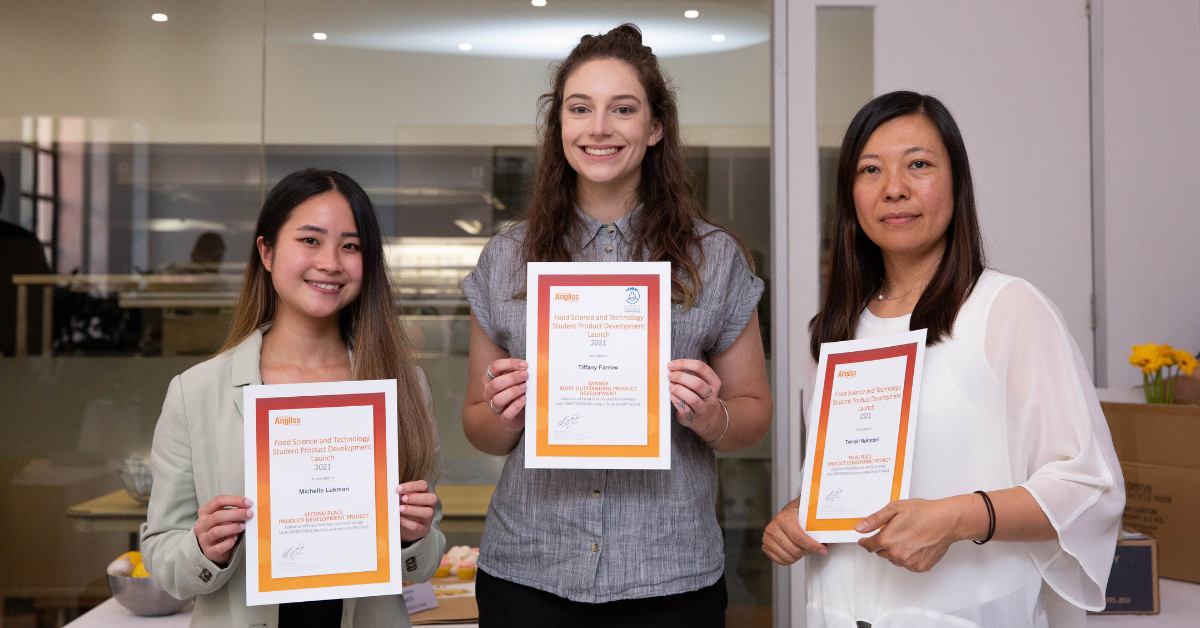 This year's Student Product Development Showcase for Diploma of Food Science and Technology (FBP50118) students at William Angliss Institute featured an innovative way to recreate and enjoy common comfort foods.
The showcase has been a grand tradition at Angliss, and student products are assessed by industry experts from the Australian Institute of Food Science and Technology.
Behind each outstanding food product, students must display their multidisciplinary approach to cover product concepts, formulations, and technical aspects to produce it in a manufacturing environment, ensuring food safety and quality, cost, packing, and sensory analysis experiments.
This year, Tiffany Farrow won first place with her chickpea snack, 'Chippeas', followed by Michelle Lukman with her Chocolate Fudge Cake (with hidden vegetables) and Tamaki Nakatani with her Texture Modified Osso Bucco.
Tiffany has been incorporating legumes into her diet for a long time, so it was a no-brainer to feature them in her student product.
"I'm a snacker by nature, and for a long time, I've been making crispy yellow split peas with spices at home, which is a sort of prototype of the product, to use to sprinkle on salads and meals for texture," said Tiffany.
"It took a lot of trial and error to get the Chippeas right. I did 30 separate trials before I was happy with my method and formulation, then, even more, proof-of-concept trials to ensure that my formulation was consistent."
Previously, Tiffany had completed a Cookery qualification at Angliss and, in 2021, decided to pursue Food Science as a first step in changing careers while still remaining in the Foods space.
"During my final semester, I started an internship in industry, and I'm happy to discover I've been offered a full-time placement for the first quarter of next year! I'm interested in completing a degree in Food Science in the not-too-distant future, but first, I want to gain experience in the field and explore the industry."
If you're interested in developing food products you have yet to see on supermarket shelves but you don't know where to start, here's what Tiffany thinks...
"I really love the hands-on nature of the Diploma at William Angliss Institute, and it's a great pathway into a Bachelor of Science for Food Technology and Nutrition. I've learned so much more than I had ever imagined in such a short time and had the freedom within the course to learn about some aspects of the food industry that interested me specifically."

Published 9 December 2021