This Masterchef Alumna is just getting started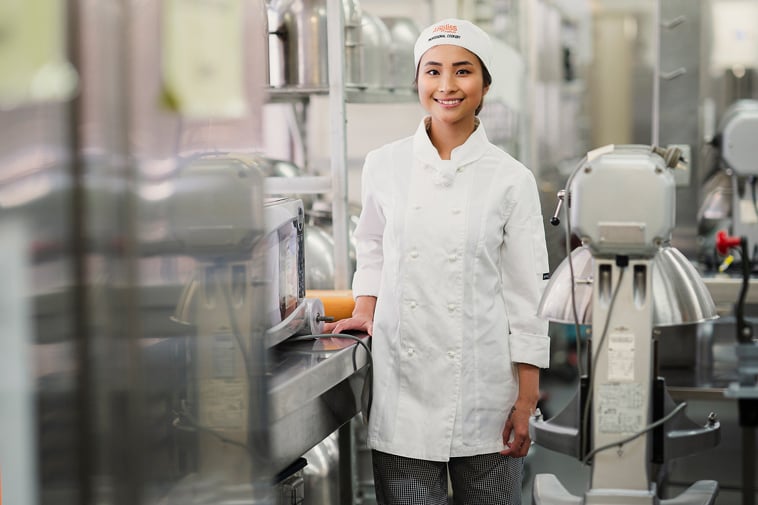 Michelle Lukman's passion for food started at an early age. She began whiping up delicious meals for her family when she was just 12 years old, and it didn't stop there! After all the cooking, reading, researching, countless hours spent watching cooking tutorials on Youtube, she was then convinced to pursue a career in foods.
At a tender age of 19, Michelle has completed a Certificate III in Commercial Cookery, had done work experience in places like Burch & Purchese, Vue de Monde, OmNom Kitchen and, you may recognise her from the ninth season of Masterchef.
"After my stint on Masterchef, I became more certain I needed to elevate my skills and knowledge about food. I also realise that's paramount to get the qualification I needed to progress further and that's when I enrolled in the Cookery course at William Angliss", said Michelle.
As she progressed through the course, Michelle became more knowledgeable and she continued to build her attention to detail, creativity and most importantly her knowledge about the food safety element that underpins it all.
"After gaining my qualification, I was able to get a job in restaurants and working as a cook in both sweet and savoury stations."
Michelle will always cherish the experience of cooking various dishes using diverse ingredients during her time at Angliss and now she's ready to expand the horizon by enrolling herself to the Diploma of Food Science course.


Rapid-fire questions with Michelle Lukman
Q Favourite dish to make?
I enjoy cooking a hearty chicken pot pie at home. The combination of the creamy filling with the flaky pastry is just unbelievably divine. For sweets, I enjoy making chocolate bonbons, brownies, and many more.
Q Favourite restaurant?
So hard to pick! I think we're so spoiled in Melbourne with the overwhelming variety we have in front of our doorstep. From recent memory though, I did enjoy dining at Sunda. Their roti with Vegemite curry was very delicious.
Q What do you think you'll be doing five years from now?
After completing Certificate III in Commercial Cookery, I became interested in learning about food product development such as pre-made cake mixes, delicious sauces, jellies and all. So now, I've continued to study Food Science.
I am curious to learn how these pre-made products are created and processed. I'm excited to delve into food preservation or shelf life, flavouring and nutritional value, and working with hydrocolloid.
At the moment, I am working towards my goal by working as a cook and a food technologist. I want to apply my understanding of flavour and ingredients as a cook. And as a food technologist, I want to be able to develop my own products that are convenient, tasty, and nutritious.
Q What was it like being on one of the world's most successful franchise TV shows?
It's definitely an unforgettable experience. It was also a challenging period in my life. There were moments where I had to cook with ingredients I have never cooked with before, or when I needed to stick to the theme of the episode. And to add, you need to consistently create something amazing in 60 minutes! From planning the idea of what to cook to selecting ingredients and cooking the dish itself under the time limit.
The best aspect of the experience is learning time management, organisation, also upgrading cooking skills from the unknown challenges. After the show ended, I'm still in touch with some of the contestants, but since all of us are living in different states, it's hard to keep constant communication.
Q Any advice for anyone who's interested in studying Foods just like you?
Be dedicated to what you will be studying within the food industry. Foster that passion for learning. I believe passion is what motivates you to study and work hard. Also, the food industry is a vast one! The knowledge you gain from studying food will bring great working opportunities within the industry.