Beurre, Melbourne's cherry on top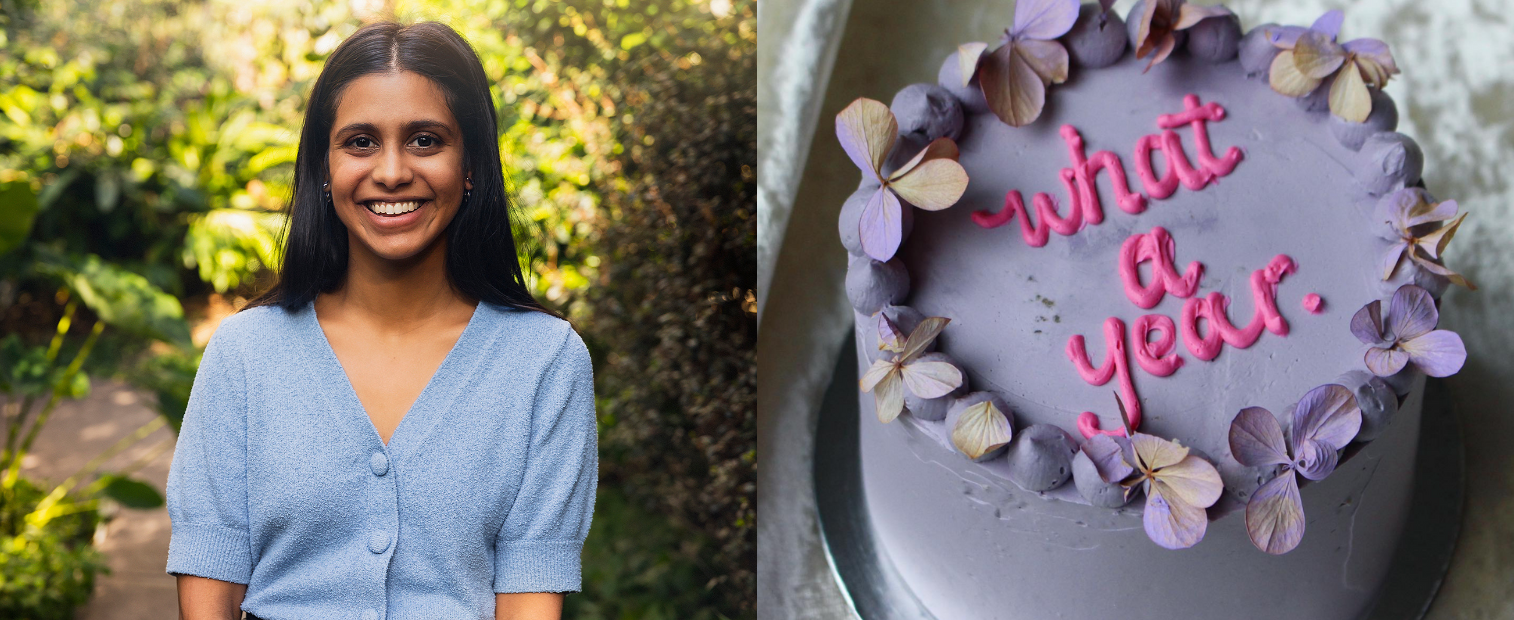 Picture this, the year was 2021, Melbourne was in and out of lockdowns and with no definite end in sight, Melbourenians were constantly searching for reasons to push forward. Enter Angliss Patisserie Alumni Zahara Valibhoy's charming cake business, Beurre. Her colourful, pun-riddled mood cakes, such as "Poppin Buttons for Sutton" and "Great Jab!" quickly became one of the city's highlights. They even received the tick of approval from Broadsheet Melbourne, Concrete Playground, Thrillist and PopSugar.
View this post on Instagram
However, long before her cakes were a social media sensation, Zahara had a path familiar to many in the creative industries, facing up each day to the stress of an office job. In a conversation with The Melbourne Digest podcast, she shared at length the inception of Beurre, particularly what led her to the life-changing decision to switch her marketing office job to baking delicious cakes.
"Now I could recognise what was happening then were panic attacks. I did this for about 18 months. Probably not sustainable behaviour, and I ended up seeing the work psychologist and realised this doesn't need to be…life."
"The main thing I considered was whether switching to patisserie and baking would give me a sense of joy and purpose during the day while also being a financially sound decision in the long term."
Zahara's first professional stint in patisserie was at Le Croissant, where she was recommended to complete her apprenticeship through William Angliss Institute.
"I like to really understand how things work and lift the veil on seemingly incredibly challenging desserts."
Apart from mastering the classics, Zahara also made the most of other campus experiences such as entering the John Patrick Conway (JPC) patisserie competition, known to have pushed many Angliss grads to their patisserie limits!
"It was assumed that I would enter the JPC competition as my bosses had won. So the pressure was there. I'm an anxious person, so being prepared is how I cope with stress. I had everything organised and prepped to a T. I can't remember how many times I made and re-made desserts, and I guess it worked out when, much to my surprise, I won!"
Fast forward to now, Zahara has her focus set on growing Beurre even further, and with two young children at home, she often shares the highs and lows of wearing so many hats on her Instagram.
"The truth is that I have lots of help. I'm very lucky. Grandparents, daycare and my husband's job is somewhat flexible to step in and help with the kids on particularly crazy weeks. And even despite all that help, I still totally crumble all the time. Running a business and all the tentacles that come with that is hard work!"
Even nine years on, through Beurre, Zahara continues to learn more about herself as a business owner and baker.
"Part and parcel of running your own business is that you need to keep the creative drive going, but at the same time, not apply too much pressure on yourself to constantly succeed. Sometimes things are slow, sometimes your efforts are wasted but, in the background, just keep chipping away at whatever your core business goals are."
To any aspiring bakers, patissiers or chefs, here's what Zahara can say about pursuing your love for food as a career:
There's a lot to learn, and a good chef is always inquisitive and keeps learning throughout their career.
Don't let your ego get in the way. It's just as powerful to be humble and successful.
Set your own goals - forget what others are doing and at what pace. We all have our own sets of skills and weaknesses, and we all have different life experiences. So just run your own race.
Published 14 June 2022