Hospitality Creativity Thriving in Melbourne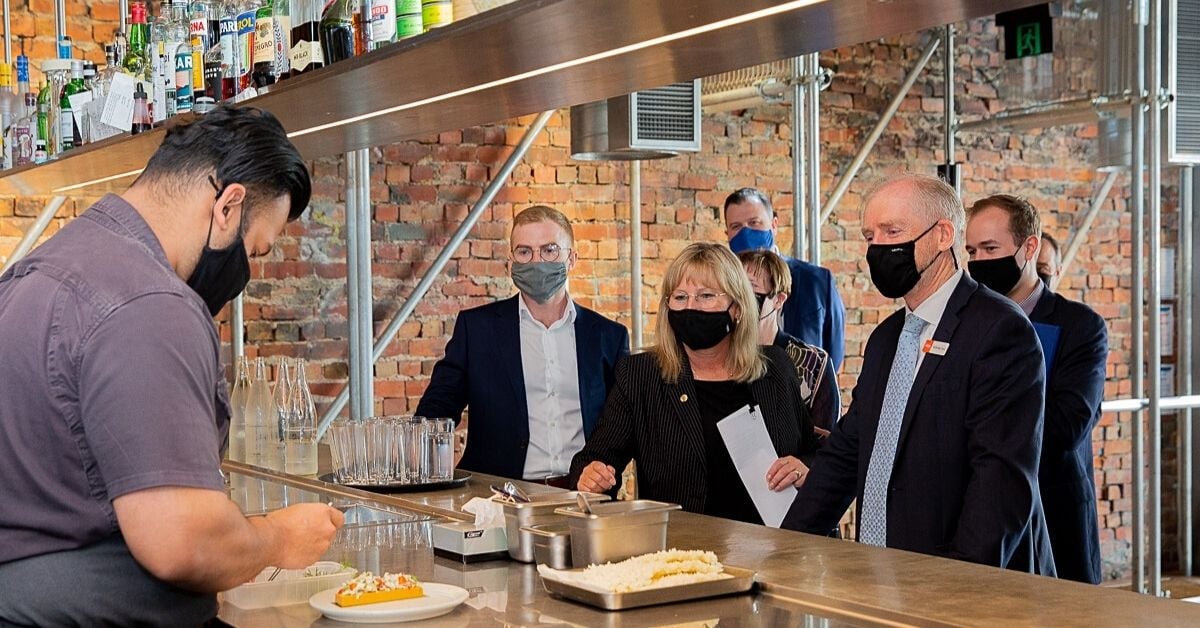 The Hon. Gayle Tierney MP, Minister for Training and Skills and Higher Education, visited south-east Asian restaurant Sunda to experience first-hand the innovation and creativity happening in the hospitality industry.
Sunda Head Chef Khanh Nguyen, together with William Angliss Institute alumni and Sunda Sous Chef Nabil Ansari, whipped up a delicious roti with a vegemite-inspired mousse accompaniment and a spanner crab and finger lime snack to share with the Minister, showcasing the top quality inventive hospitality happening in the heart of Melbourne's CBD.
During the Melbourne lockdown in 2020 Nabil saw an opportunity. When takeaway businesses were the only option, Nabil decided to start his own Indian food and ice-cream business in his own apartment building. Nabil's imagination and food skills meant he could create a delicious selection of unique ice-creams featuring spices like ginger, star anise, clove and cardamom.
"Ansari, my pop-up store is currently operating from the Windsor Hotel and I am still doing traditional Indian dishes and exotic ice-cream desserts to the best of my ability!" Nabil said.
Nabil will be hosting a special event featuring his food on 1 March, meanwhile Sunda head chef Khanh is working on a new menu for another restaurant opening in the near future.
With the reopening of the hospitality industry, the chefs and front of house staff at restaurants like Sunda are relishing being back in the kitchen and offering guests first class hospitality experiences.
At the same time job vacancies in the Victorian hospitality industry have surged in recent months and Minister for Training and Skills Gayle Tierney encouraged job seekers to sign up for Free TAFE hospitality courses for jobs in the state's rejuvenated hospitality industry.
"This year, as we respond to and recover from the impacts of coronavirus, TAFEs like William Angliss Institute will continue training Victorians to ensure they get the skills they need to get a good job," said Minister Tierney. "There has never been more choice or opportunity for people to get the training they need for in-demand jobs as there is with the 2021 Free TAFE Initiative," she said.