Nestle Professional Scholarship Winners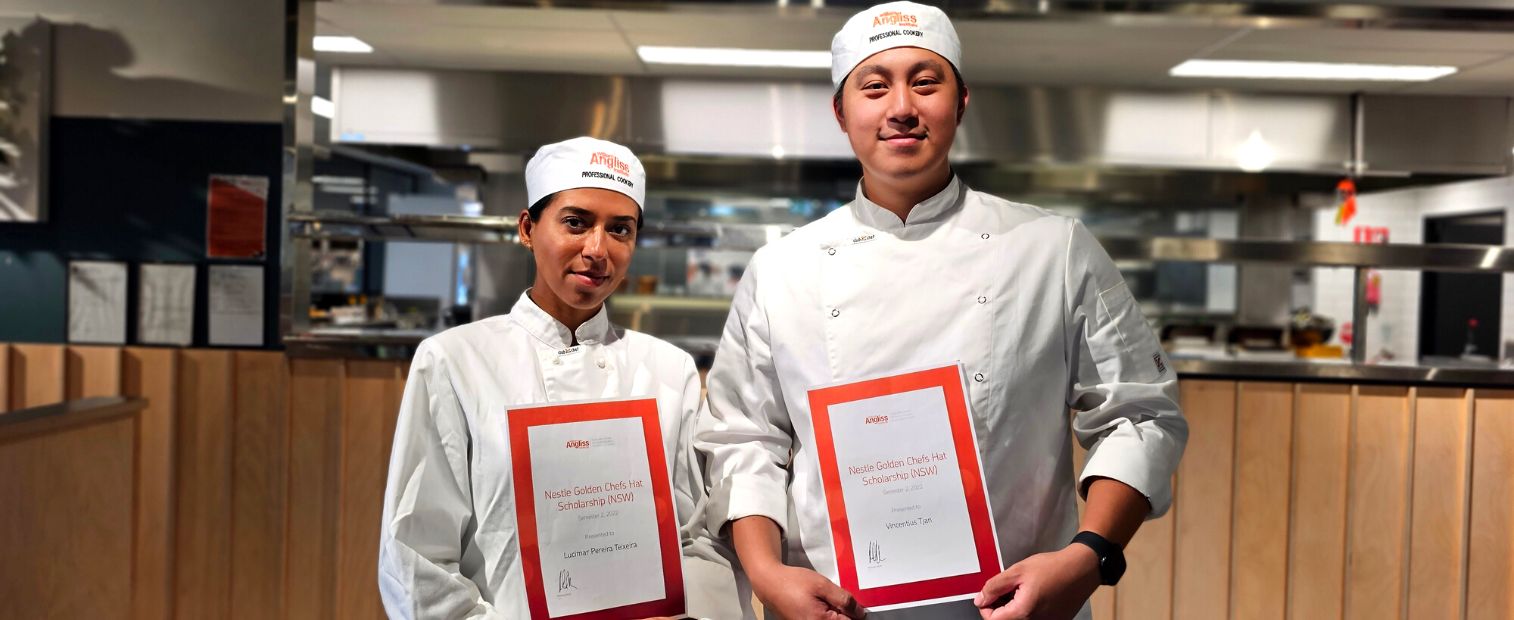 William Angliss Institute Foundation aspires to help rising star students by lifting some of their financial challenges and allowing them to focus more on becoming experience experts. With the help of long-time institute partner Nestlé Professional, we proudly announced scholarship winners to our recipients at our Graduation Ceremony in December 2022.
The scholarships were awarded to;
Lucimar Pereira Teixeira, Angliss Certificate IV in Commercial Cookery (SIT40516) student and scholarship recipient, said, "Having the opportunity to study in one of the best cookery schools in Sydney has further developed my skills and knowledge and prepared me to advance in my future career as a chef.
Being awarded the Nestle Golden Chefs Hat Scholarship has taken the financial burden off my education and made a huge difference for me. I am truly grateful to be nominated for this award."
Vincentius Tjan, Angliss Certificate IV in Commercial Cookery (SIT40516) student and scholarship recipient, said, "I was enrolled at the University of Sydney, majoring in Finance and Business Analytics, but I knew I would always do something hospitality and cooking related. As a chef, I can explore my creativity and create wonderful dishes to share.
One day, I will put my two backgrounds together and open my own Food and Beverage business, and I am grateful that I applied for this scholarship. This scholarship will help me in the long run as I can put some money aside for my goal and finish my course to be a qualified chef. This would open so many doors for me worldwide, and it's really exciting."
Nestlé Professional Communications & Sustainability Manager, Karlie Durrant, reinforced their support for the food service industry, "We're proud to be investing in our industry, and these Nestlé Golden Chefs Hat Scholarships are a true testament to that.
Through our wider support of culinary awards across Oceania, we have a legacy spanning eight decades. We very much see our ongoing partnership with Australia's leading culinary institute, William Angliss Institute, as an extension of that. It's rewarding to see how the scholarships benefit the students and how they can make a real difference to the career prospects of each recipient." Ms Durrant said.
If you're a new or continuing Angliss student, visit our website to learn more about our eight scholarships and their eligibility criteria.
Published 10 March 2023