Angliss graduate scales the heights at Hotel Grand Chancellor
After graduating with a Diploma of Events, Clare McMennemin's career is moving from strength to strength. As a conference sales executive at the Hotel Grand Chancellor in Melbourne city, Clare's responsibilities encompass event enquiries, proposals and the full scope of project management.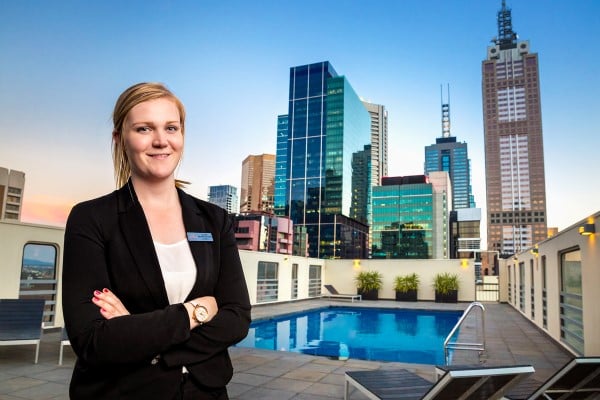 Being industry-ready, has given Clare the ability to make a smooth transition to the professional world, enabling her to face the day-to-day challenges of working on such large projects.
"When taking my first steps into the industry as a conference sales executive, I was able to take the skills I had gained from each semester at William Angliss Institute. In particular in the project management and functions class, we were responsible for the planning and execution of an event in groups. This class enhanced my administration skills for creating event planning documents, which developed my basic skills for entering the industry."
The Hotel Grand Chancellor is a four star, boutique hotel which hosts a wide variety of events and conferences, with packages ranging from small meetings of 10 people up to large conventions. It is part of the over-arching Grand Hotels International brand, which boasts a range of properties in Australia, New Zealand, Malaysia, Singapore and China and working for such a large international group requires career-focused candidates who are job ready.
During her studies at William Angliss Institute, Clare pursued volunteer work and received a scholarship to attend the 2016 ICCA Congress in Malaysia.
"Attending this conference helped me build my networking skills and opened my eyes up to the endless opportunities this industry has to offer."
With Clare's drive, determination and confidence, it's clear that she is laying the foundation for a very successful future.
Clare said, "Over the next few years I want to continue working at Hotel Grand Chancellor to develop my skills in Event Sales and Management. I wish to continue my path in Hotel groups and perhaps venture into larger venues throughout Melbourne. William Angliss Institute has given me the confidence to pursue my career goals with a passion no matter how big the challenge."