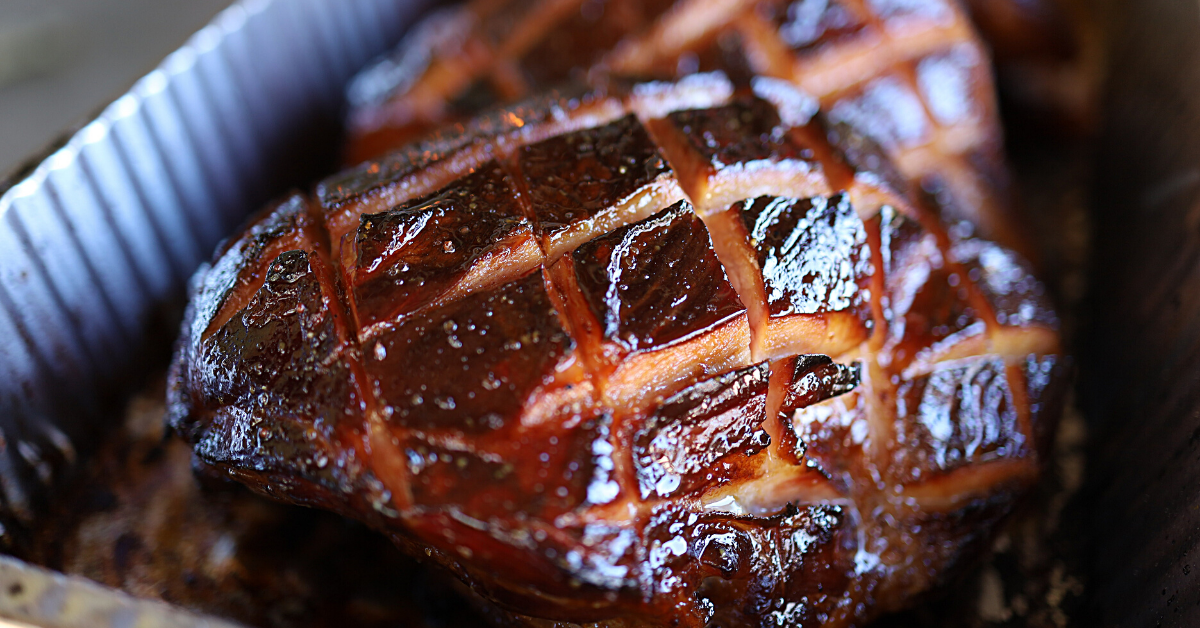 Did anyone call Santa? At Angliss Sydney - the Christmas spirit is already here. Follow our Commercial Cookery Trainer Glenn Wildman's juicy and yummy Christmas Ham recipe to impress your friends and families at Christmas gatherings.


Pineapple glazed leg ham with grilled, roasted apricots and nectarines recipe*
Part 1 - Ham
What you'll need
Instructions

One full leg ham (preferred – Soccerball ham is another option)
2 litres of unsweetened pineapple juice
2 fresh pineapple
Approximately 20 skewers
Approximately 20 whole cloves (optional)

500g of brown sugar

200g

of honey or maple syrup

2 lemons - juiced and zested

100g of f

resh ginger

60g of

mixed spice

100g dijon mustard

Preheat oven to 150'C
Reduce pineapple juice down to 150mls
Remove skin and fat, leave a vandyke pattern 10cm around the knuckle bone. This is only for appearance.
Once fat is removed score the ham with large diamonds about 5mm deep, liberally brush pineapple reduction over the scored ham, repeat this process a couple of times. Whatever is left over from this can be added to your glaze mix.
Clean pineapple and ensure they are kept whole. Cut round slices approx. 5mm thick. Pin them onto the ham with the skewers. Start from the knuckle end in the centre of the ham, work your way in a straight line to the end of the leg. Overlap each slice and secure each slice with the skewer (skewers are removed after roasting). Continue this step until the ham is covered with pineapple slices, pay attention to the appearance eg straight lines and overlapping the pineapple - you can't use too much. No pineapple needs to go on the bottom.
Optional - If you wish you can press cloves next to the skewers, when the skewers are removed the cloves stay.
Line a baking tray with baking paper and place in ham.
Mix all other ingredients and remaining pineapple syrup in a bowl and liberally brush over pineapple slices.
Place in oven. This process takes approx. 40 minutes. What you are trying to achieve here is nice golden colour. If it starts to colour too early then lower your oven temperature. Every 10 minutes remove your ham and baste it with the pan juice and keep adding any glaze left over.
Your ham is ready when you have a deep rich caramelised colour and the pineapple is well glazed.
Remove from the oven and allow to cool, be sure to continually spoon over the glaze as it cools. The more the better!
Remove the skewers, It's ready to serve hot, warm or cold. Use a sharp knife to carve it and use glaze from the pan as extra sauce
Part 2 - Grilled, roasted appricots and nectarines
What you'll need

Instructions

750g of fresh apricots
750g of fresh nectarines
250g of unsalted butter
100g of caster sugar (2)
2 bottles of Sarsaparilla 1.125ltr bottle
6 cinnamon quills
8 Star anise

Preheat oven to 180'C.
Reduce sarsaparilla to a syrup - this step can be eliminated if you don't like this flavour.
Cut fruit in 1/2 and use a hot bbq plate to burn a cross pattern on the cut surface only.
Place bbq'd fruit in a roasting tray, cut butter into walnut size pieces and place randomly amongst fruit.
Add spices, sprinkle sugar and sarsaparilla glaze over fruit, cover with foil and bake for 15 minutes.
It will be saucy, and its now ready to serve with your ham.
*Leg ham is preferred as it is a far better-tasting result. However, soccerball ham is still excellent and possibly easier to work with. Regardless of the ham product, you use the end result will be something to be proud of and show off your talents to loved ones at Christmas time. This recipe is for a whole leg ham and needs to be adjusted accordingly if you use something else.