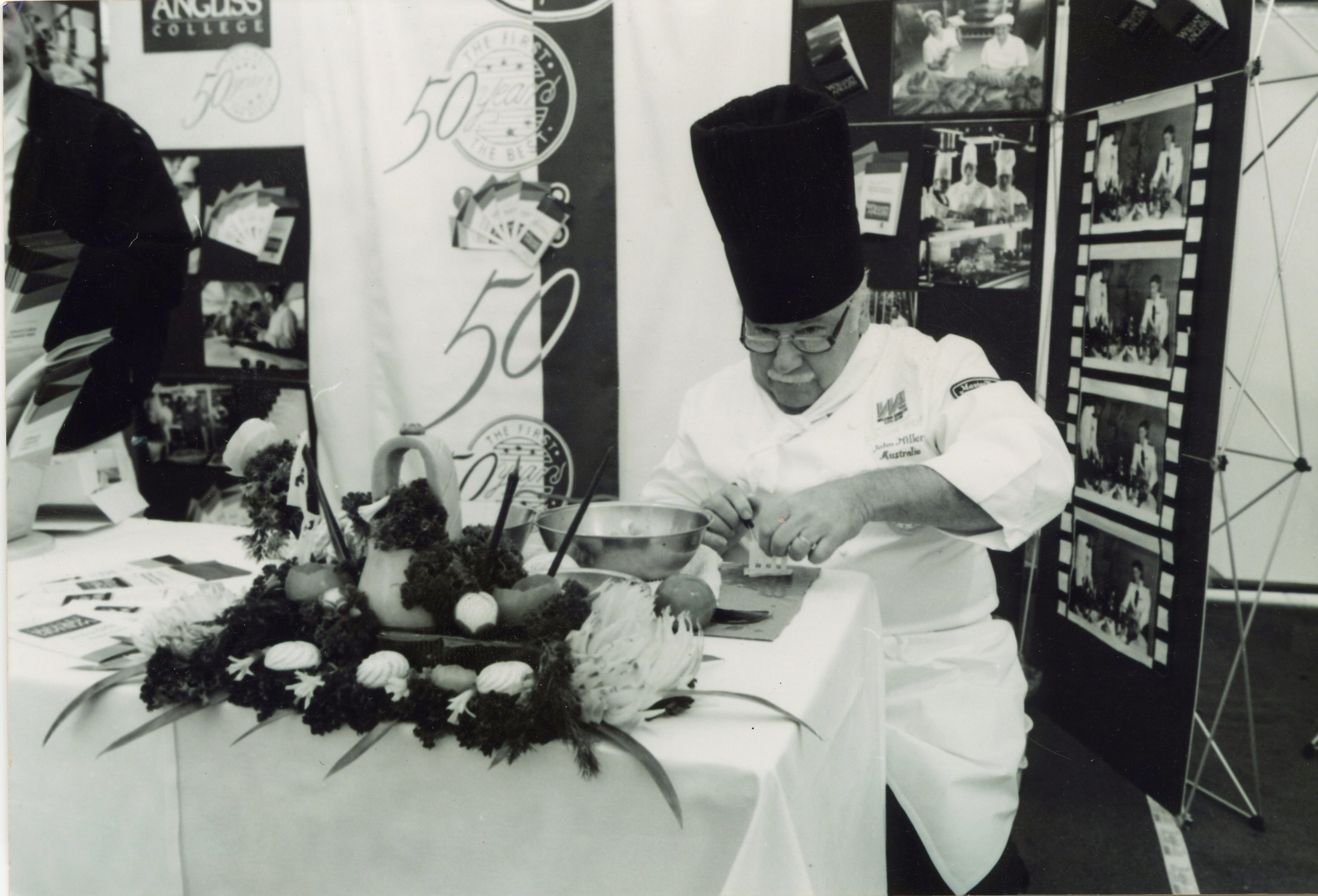 William Angliss Institute's community is saddened to hear of the passing of Chef John Mangan Miller OAM.
Throughout his career John made a substantial contribution as a professional, chef, educator and leader. The John Miller Kitchen at the William Angliss Institute provides a reminder to all of our students of his extraordinary career and of the many possibilities that await as they embark on their own careers.
"John Miller was a pioneer and leader as a culinary professional, in Australia and across the world. William Angliss Institute is proud that John was one of our alumni and proud of John's role in cementing the Institute's culinary programs as among the best in the world. His legacy will continue at William Angliss Institute for many years to come", said William Angliss Institute CEO Nicholas Hunt.
In 1945, John Miller began his apprenticeship in Melbourne, graduating in 1949 with a Diploma in Commercial Cookery from The William Angliss Food Trades School (as the Institute was known at the time). John was one of the first apprentices at Angliss who was not connected to the Armed Services. After completing his apprenticeship, John worked and travelled widely, visiting Europe, Hong Kong and Egypt, and working at the famous Savoy Hotel in London.
The 1956 Melbourne Olympics brought John back to Australia for a short time, but once again, adventure beckoned, as he took up a role at the Hong Kong Hilton, then the Nile Hilton. In 1970, John was offered a position as a trainee cookery teacher by then-Angliss Principal Jock Kerr, who he had trained with 25 years before. He was to later take the reins as Head of Foods Department – William Angliss College, responsible for managing 30 cookery teachers and providing commercial cookery programs to over 1,000 students.
After another stint in Hong Kong in 1984, John Miller finally returned home to Melbourne in 1985 to be appointed as Senior Curriculum Consultant, William Angliss College.
John was also involved in setting the curriculum for state-wide food and culinary programs, developing courses for restaurant operations and introducing more specialised skill units to suit different needs and emerging markets. Through his friendship with French Chef Paul Bocuse he also initiated a national search for talented candidates, selected by jury to travel to Lyon to compete in the bi-annual Bocuse d'Or Competition for Professional Chefs, one of the most prestigious contests of culinary skills in the world.
He is an Honorary Life Member of Les Toques Blanches, a life member of L'Acadmie Culinaire de France [Australie], as an Honorary Life Member and Past President of the Australasian Guild of Professional Cooks was the first Australian to be awarded the distinction of wearing a Black Chefs Hat, officially opened the 1998 World Congress of Cooks and in 1998 was bestowed by the Government of the Republic of France with the title Chevalier [Knight] de l'Ordre du Mérite for involvement in the promotion of French Cuisine, education in the culinary arts and curriculum development and was in 2004 appointed as a Life Member of the Academie Culinaire de France.
John stayed at the Institute until his retirement in 1992, earning an Order of Australia medal for service and dedication to French Cuisine and Cookery in food education programs in 2006. In an Oral History recorded by the Institute, he looked back on his time and long history with the Institute with a sense of pride and achievement "I often refer to William Angliss Food School as the 'Mother' of all catering colleges in Australia. Everything grew out of William Angliss College." said John.