Yo India journeys to food truck success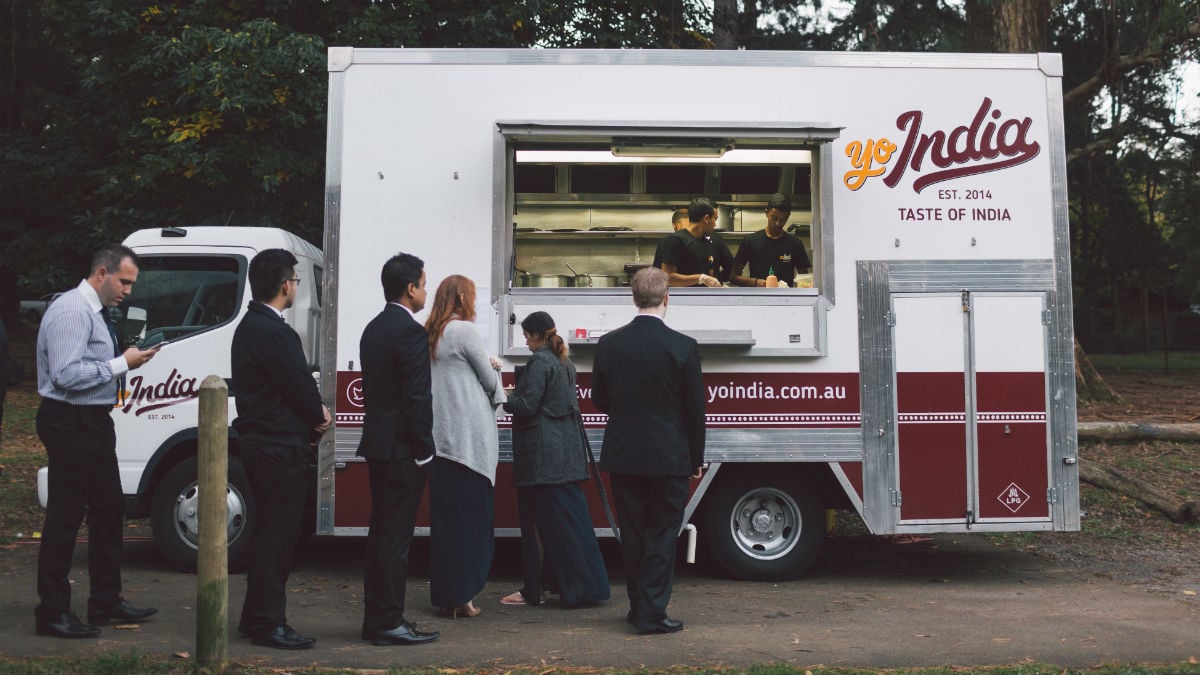 As founder of the popular Melbourne food truck, Yo India, Conan Gomes lives and breathes Indian food, so it was a thrill to be featured in Lonely Planet's Around the World in 80 Food Trucks.
"As a small family business, we put in 80-100 hours a week – the hours are crazy. There's lots of hard work involved and a lot of sacrifices are made," said Conan. "We make everything from scratch so Lonely Planet's recognition was a beautiful reminder that people notice the little things."
Beginning his studies at William Angliss Institute in 2009, Conan graduated with a Bachelor of Culinary Management in 2012. At first, he felt overwhelmed by the size of the industry, but advice from his teachers, work placements, and business management training helped him enormously.
"The course helped me understand what makes a good business great – how to create a good culture, how to empower people, and how to ensure equality in the workplace," said Conan. "This knowledge has helped me become a better leader."
While studying, Conan worked at the Angliss Conference Centre where he received thorough training in corporate hospitality.
"Working there as part of a small team, we had to do everything, and I mean everything – from helping out in the kitchen to sales and marketing," said Conan. "It was great to get a good understanding of how an event operates from start to finish."
Conan continued building on his event management experience when he helped out a friend working for a food truck. By this time, Conan had also started a small catering business from home, so starting his own food truck seemed like a natural fit.
"When we began, there weren't any food trucks focusing on Indian cuisine so it was a little niche in the market that we felt we could add value to," said Conan.
Beginning in 2014, Yo India has since become a mainstay on the food truck scene, travelling widely across Melbourne to serve customers at pop-up bars, festivals and night markets.
With Conan taking responsibility for operations and marketing, his father, Raymond Gomes, is the food truck's chef. As a small business, the two men are often required to wear multiple hats and assume elements of each other's roles. But taking an entrepreneurial approach to business seems to run in the family.
"My grandfather built a bakery out of nothing and there was a brief period where he used to supply bread to Indian Airlines. My dad ran a restaurant in Romania and used to have a catering business," said Conan. "I've always thought of having my own business – I just didn't think it would come so soon after graduating."
Conan was quick to recognise that his success as an entrepreneur was mostly dependent on himself.
"The key thing with entrepreneurship is that you have to show up every day and be accountable for all your decisions and be self-motivated – that's something that I've always had although it took a long time to build on that, and I'm still learning how to become better at it," said Conan.
There have been many highlights along his food truck journey. Conan has served Yo India's food to the Australian men's cricket team and the Essendon Football Club. He's also thrilled that the food truck regularly gets asked to cater for weddings.
Right now, Conan and his father are focused on sharing Indian food and culture with new customers and growing the business. They're looking to expand to a small shop front with a new concept and eventually they'd like to open a restaurant.
But for the time being, Yo India remains the best place to sample their freshly prepared dishes such as lamb korma, lentil and vegetable masala, and tandoori chicken.
"We are the only food truck to have a tandoor oven on board and the flavour we are able to create using that is incredible," enthuses Conan.