Angliss Alumni at International Women's Day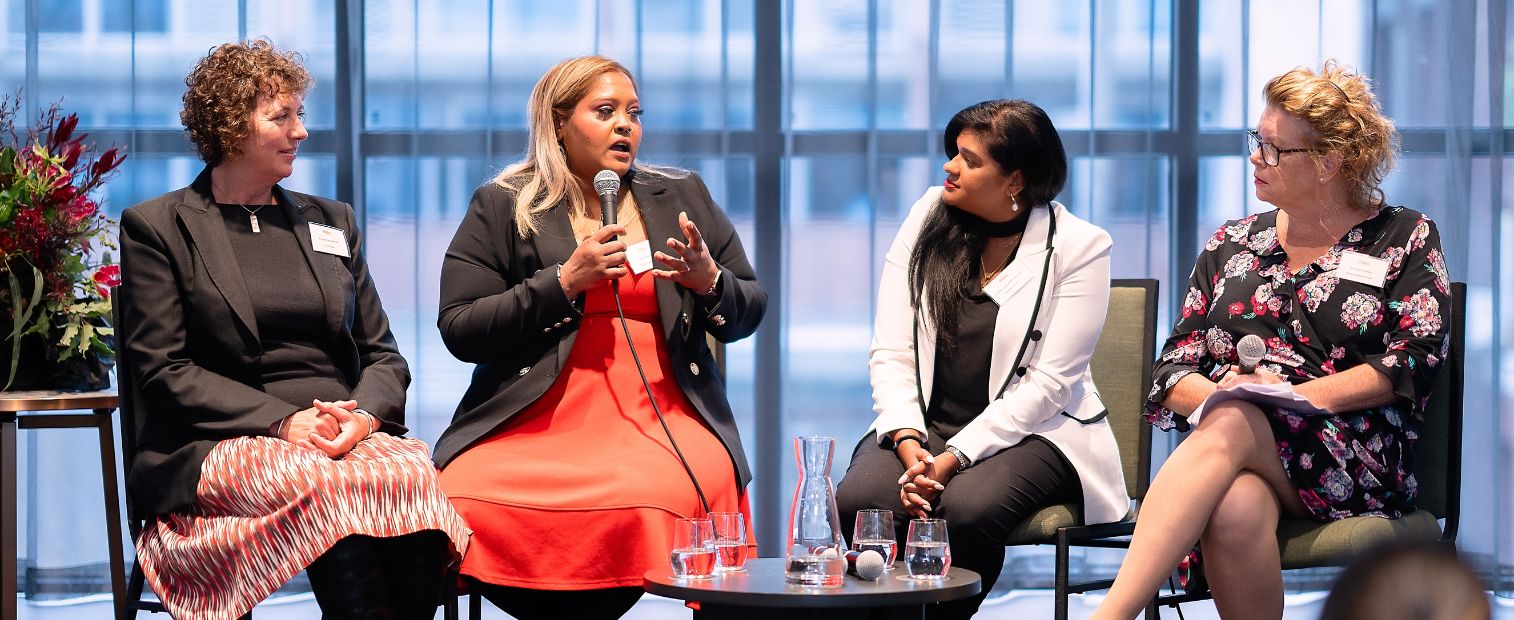 Reflecting on their experiences as women in the workplace and how organisations could respond more inclusively, was the focus of a panel discussion at the Angliss International Women's Day Breakfast held at the Courtyard Marriott in Melbourne this year.
Alumni The Hon. Cassandra Fernando, Sweta Baichoo and Anna de Leeuw Pool shared how they have benefitted from having role models and mentors in celebrating the day.
⁠
In her keynote speech, Certificate IV in Hospitality (Patisserie) and Diploma of Hospitality Management graduate, Cassandra led with issues needing action, including family and domestic violence, women's equality, closing the gender pay gap and access to equal education. ⁠She also spoke about women needing (and needing to show) confidence, encouragement and empowerment.
Her experience in the union movement played a huge role in understanding the hardships faced particularly by women.
"Nearly 20 years in this role taught me the issues women had to deal with in the workplace and motivated me to take initiative to make Australia a better place for gender equality."
Her time in the union movement revolved around the Shop, Distributive and Allied Employees Association (SDA), which is the union covering workers in retail, fast-food and warehousing and comprising a female-majority membership. As a result, most of the members she worked with during her time as a delegate, Health and Safety Representative and organiser involved rectifying issues and making the workplace a better and safer place for women.
"This included better rostering arrangements for working mothers, supporting women who faced harassment at work and advocating for victims of family and domestic violence, amongst other issues."
Cassandra has also taught English to several migrant women at AMES Australia and supported the passage of the Family and Domestic Violence Bill in the Australian House of Representatives.
Anna's advice was to engineer opportunities instead of waiting for the perfect one to pop up. For aspiring experts, Anna's go-to career advice was to work on an elevator pitch, as you never know who you might be speaking to, and to "just say yes" to opportunities and get ready to learn.
Her passion for travel and insatiable curiosity led her on many worldwide adventures. She always wanted to study tourism and work as a tour guide, but was too busy travelling, working and raising a family. When COVID 19 hit, Anna created her next opportunity straight after she lost her job.
"I had always wanted to study at William Angliss Institute, because of its excellent reputation in the industry, so I initially enrolled in a Certificate III in Tourism. I absolutely loved it and immediately realised that this was the perfect fit for me and my knowledge, passion & experience."
Spurred on by the support from Angliss teachers, the confidence gained by obtaining a Sir William Angliss Scholarship and the encouragement of her family, she then also completed the Diploma of Travel and Tourism Management.
"I am so proud to have not only achieved my Diploma, plus obtain a second Scholarship, but also to be awarded the Most Outstanding Tourism Student Award last year."
"I was thrilled to obtain my dream job with my dream company as a Tour Guide with Intrepid Travel, straight after graduating!"
Appreciating the mentorship that she received during her studies, Anna seizes opportunities to work closely with Angliss alumni and giving back by being an inspiring mentor for future generations looking to enter the tourism industry.
Sweta highlighted the opportunity in getting involved in competitions for raising the profile of women. She also fiercely advocated for boosting other women and said knowing your worth is essential.⁠
Her journey in the food industry started at a young age, helping her dad harvest fruits and vegetables on their farm. This was followed by training in the male dominated kitchen environment in a 5-star resort in Mauritius where Sweta first experienced being subjected to gender inequality via comments about her appearance and missing out on job opportunities.
Creating more flexible pathways in the workplace will enable more women to consider entering leadership roles.
"Having more female leaders in positions of influence is critical and they will serve as role models to generate broader societal impacts on pay equity, changing workplace policies - in ways that benefit both men, and women and attracting more diversity."
Being proactive in programs that have had a positive impact on promoting gender equality is a given for Sweta.
"I am a proud representative of RiiSE, a platform initiated by Accor Hotels which features a double 'ii' symbolising the men and women who are committed to the values of sharing knowledge, of solidarity and combatting stereotypes. My personal aim is to be an inspiration to empower women into leadership roles."
A graduate of the Certificate IV In Hospitality (Commercial Cookery) and Diploma of Hospitality Management and with a career including roles with Peter Rowland Group, ACCOR and Sofitel Melbourne on Collins, she currently works at Pullman Melbourne on the Park as Chef de Cuisine where she is "surrounded by an amazing team, including great leaders."
She was the first female chef in Australia, alongside her Commis Chef Rochelle, to compete for Bocuse D'Or, a prestigious culinary competition, created after the very well-respected chef Paul Bocuse where they both took the bronze medal.
"The reason behind doing this competition was to encourage and influence younger female chefs."
For students who are always looking for different ways to learn and connect with like-minded people in the foods, hospitality, tourism and events industries, head over to Careers & Employment to learn more about our mentoring program, speed networking events and other career opportunities.
PUBLISHED 19 aPRIL 2023