Foods student Shelantha Fernando is seizing every opportunity - literally!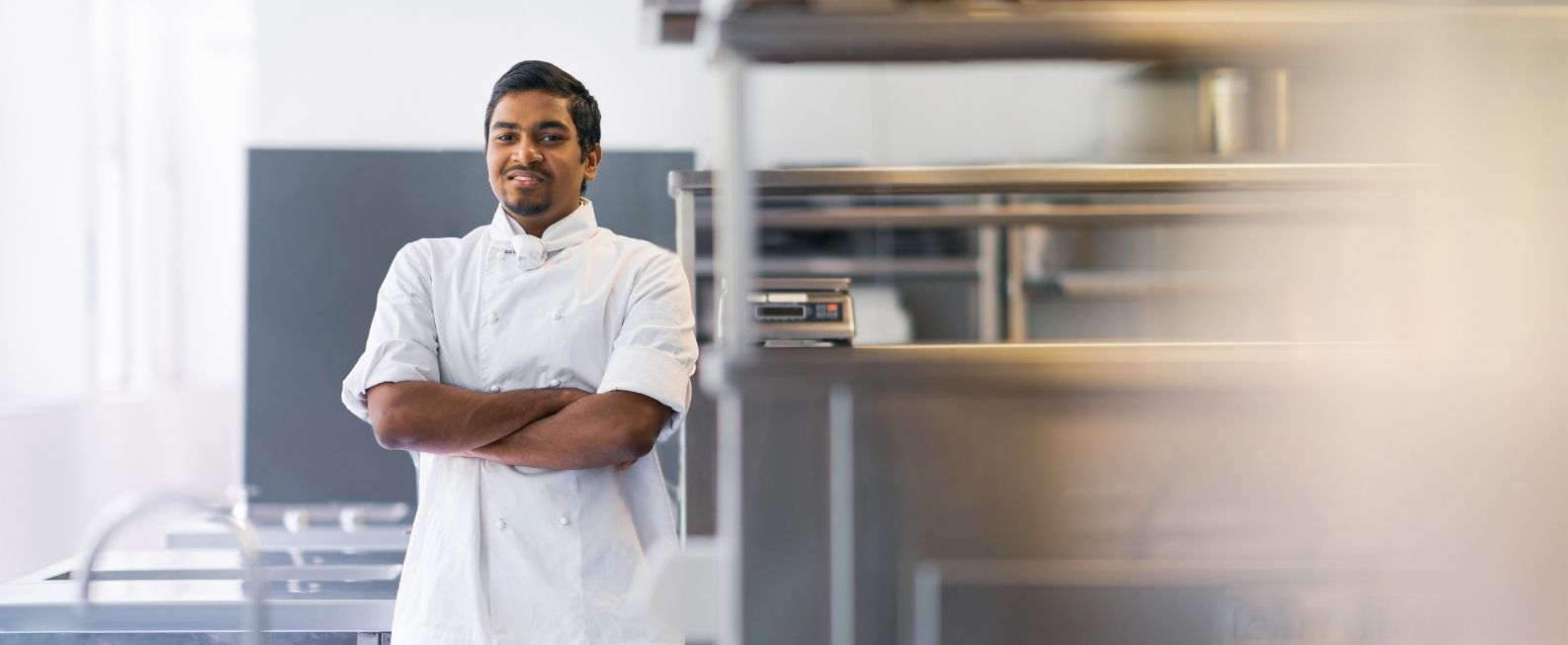 Hailing from Sri Lanka, International Cookery and Patisserie student Shelantha was exposed to the world of culinary and hospitality long before enrolling at Angliss. Through his father's work in the hotel industry, Shelantha saw how great hospitality is key to orchestrating memorable experiences.
"I wanted to be a part of a team that helps create once in a lifetime memories for people. I'm also a very social person with a big personality. I know that my future career has to involve interacting with people and making their lives better!" said Shelantha.
Shelantha was eager to complement his education, so has plans to pathway into the Advanced Diploma of Hospitality Management. This plan will provide him with well-rounded training and knowledge to help kickstart the career of his dreams.
"Studying at the Melbourne campus has helped me become more independent. I truly admire the sense of independence that Angliss seeks to build within all of us. Coming from a place where 'spoon fed' education is the norm, I really welcome this change."
One of the many ways Angliss makes sure that students are well prepared for the industry is with our annual Speed Networking event. Students can chat and network with Melbourne's best Front Office Managers, Operations Managers, Event Coordinators, Directors and Human Resource Managers, and more during this event.⁠ Thanks to contacts made at our most recent Speed Networking event, Shelantha has scored a front of house role with one of Melbourne's most iconic restaurant groups, which will help him further develop his hospo skills.
"It was a great opportunity to speak to a diverse group of industry leaders and get in-depth knowledge and advice as to what they expect from an employee from the application process to their daily work."
Since starting his course in 2020, Shelantha has seized every opportunity. On top of his school work and two part-time jobs at Philippa's (Pastry Chef, Barista and Front House staff) and The Hof Downtown (Chef), he is also part of the Student Representative Team at Angliss, where his main goal is to create a strong student life experience for his cohort. Recently for Cinco De Mayo, the Student Representatives served more than 200 delicious tacos and tres de leches cakes - making it one of the most successful student-run events in Angliss history.
"I want them to look back and reminisce on their memorable days at Angliss as a student. I want to make each student feel at home and that Angliss is more than an education provider."


Rapid-fire questions with Shelantha Fernando


What have you learned at Angliss (so far) that you will carry through after you graduate?
It's important to work hard, create positive and lasting first impressions and maintain the industry connections gained at Angliss. The person sitting next to you could be your future employer, colleague or even business partner! The recent 'Speed networking' event made this even clearer as many representatives from Industry were Angliss alumni!
What has been the most exciting moment during your time at Angliss?
Volunteering at The Melbourne Food and Wine Festival! Even though I am a culinary student, I worked alongside Event Management students, and I was amazed at how interchangeable my knowledge was! I realised that my work experience from different departments within the Hospitality industry and not only from cooking necessarily has helped me become a more valuable and all-rounded employee.
What do you enjoy most at Angliss?
The diverse community! And that's what the hospitality industry is all about - diversity and inclusivity.
What's your ultimate goal?
I hope to launch my own chain of Michelin star restaurants and create a revolutionary discovery within the culinary world. Let's see what the future holds!
Do you have any advice for people wanting to get into this course?
I would say work hard and seize whatever opportunity you get. It may not be what you wanted or expected, but in every experience, there is a lesson to be learned.