For Jessica, bread making is her calling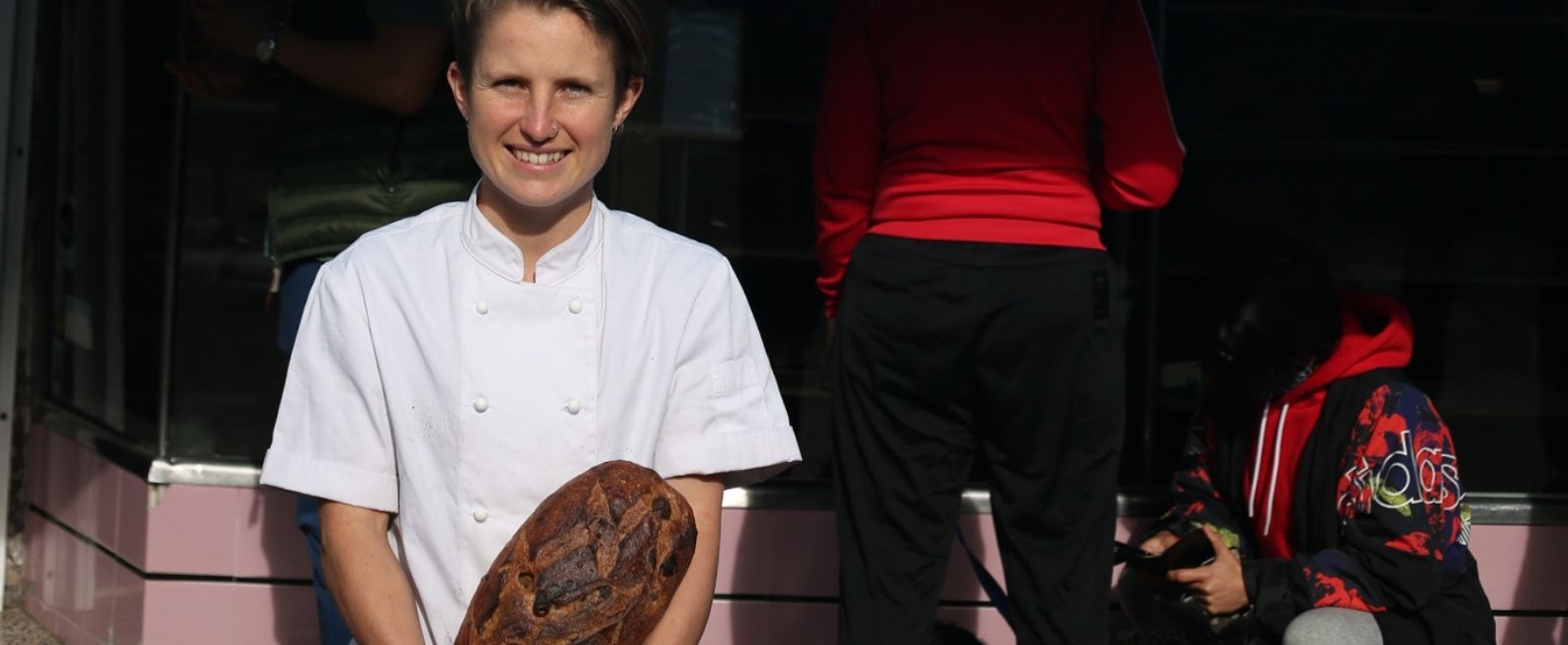 As you get to know Bakery Apprentice Jessica Hercott, you start to understand where her love for bread comes from. Growing up on a wheat farm, freshly baked bread in the morning was part of the daily ritual. It was last September that she decided to change up her life as an outdoor education instructor and pursue turning her passion for bread-making into a career.
"I decided to get into the course to further my knowledge of fermentation. In my spare time, I would dabble brewing my own cider and making bread. These age-old techniques are so fascinating and the foundation of so many products that we use on a day-to-day basis. The way tiny bacteria turn sugar into gas and alcohol is like magic."
Since starting the Certificate III in Baking (Apprenticeship) in February, Angliss has helped Jessica understand the building blocks of bread making and the complexities of different types of bread. And by going through the apprenticeship route, she's able to learn and earn while working her way to completing her qualification.
"There are so many different ways that you can make something. You can manipulate ingredients and different methods to fit your situation. Take bread: is it yeasted or leavened? Is it retarded or baked the same day? What flours are you using? And so on."
Jessica's using her time as a relatively new baker very well by making sure she's going for opportunities that answer her curiosities. To start, she spent some time at South Yarra's Rustica, where she gained insights into wholesale bakery and how a business can produce so many different types of baked goods on a large scale. However, she had her eyes set on Loafer Bread, one of Melbourne's go-to bakeries regularly appearing in lists of Melbourne's best in Broadsheet, TimeOut and more.
"I've always been interested in small scale, local flours and long-fermented baking. I had been in touch with Andrea at Loafer, and when an opening came up, I moved. I've now been at Loafer for about eight months."


Rapid-fire questions with Jessica Hercott
What do you love the most about your work at Loafer Bread?
The knowledge that they have passed down has definitely shaped the way I bake. I heard another baker say, to paraphrase, "you wouldn't expect to buy two tomatoes that were exactly the same, they are growing and alive, that's how we should view bread, no two loaves will ever be the same, as they come from a unique raw ingredient, not a just a white powder from a bag".
Tell us something about Loafer Bread that other people might not know.
I might be biased, but I think Loafer makes some of the best bread in Melbourne. Personally, I have always had a soft spot for Easter and hot cross buns, but I'd never had hot cross buns like Loafer's before - they are spicy and fruity, and one of my favourite ways to eat them was fresh with a piece of cheddar in the middle.
What's your long-term career goal?
Long term, I would love to have a paddock-to-plate café set up, focusing on seasonal, sustainable and local. Using age-old techniques like curing and preserving and mixing that with new-age ideas for sustainability.
Do you have any advice for people wanting to get into this course?
I have learnt so much from the course, and I still have at least 8 months to go. It's quite flexible too. I had come from a different training institute and had all my credits transferred. The staff are all super helpful, and the other students are very supportive.