Students deliver magic en masse at Melbourne Food and Wine Festival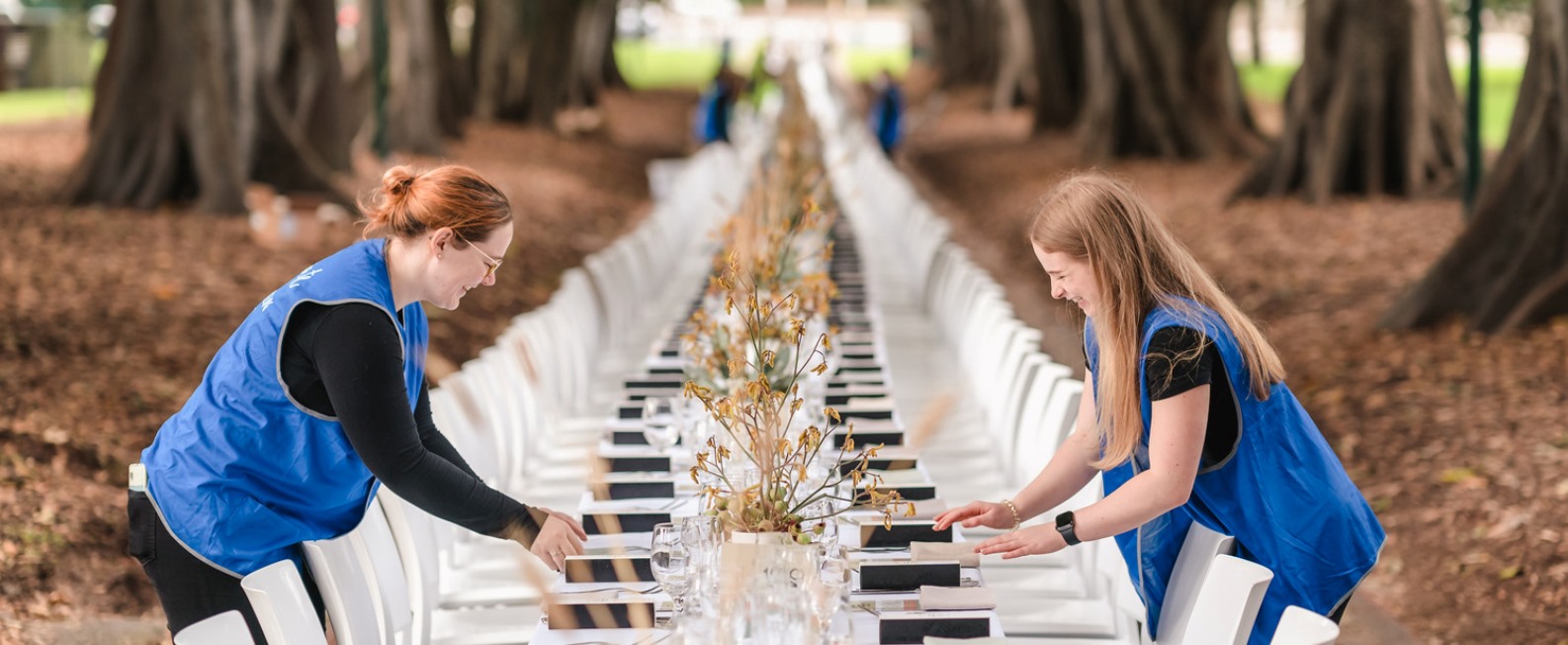 There was a long line-up of Angliss students at the World's Longest Lunch this year, kicking off the Melbourne Food and Wine Festival (MFWF) for 2022.

With an expectation of 1000 diners, the event sold-out and a crowd of 1800 people were in attendance to high-five Ben Shewry, the Attica chef who designed the lunch menu.

Staged over 600m of the picturesque Treasury Gardens, students supported the event's official catering partner Peter Rowland, and event specialists En Pointe, bringing Shewry's magic to the table.

Following a dedicated recruitment drive organised by the Careers and Employment team, over 100 students were recruited for the opportunity to work on the esteemed event, now in its 30th year.

Working front of house and back of house in preparation for the gastronomical event, students learnt first-hand the challenges and industry tips for catering for such a large number.

"Opportunities to work on hallmark events like the Melbourne Food and Wine Festival give students a learning experience they couldn't get if they weren't at William Angliss Institute," said Careers Coordinator, Jia Song.

The Institute has been a long-time partner of the festival and this year along with students working 100 shifts (food prep, event crew, wait staff and event delivery), it also saw students working 70 shifts across the World's Longest Brunch the following day.

Students also worked for Angliss partner Worksmith at MFWF's Cocktail Festival and had the opportunity to attend some MFWF events at a special discounted rate as Angliss students.

With opportunities for students across a range of qualifications, the MFWF experience provides a unique view of major events, which can help students determine their career aspirations.

For Hannah Nicol, working at the Melbourne Food and Wine festival while studying the Bachelor of Event Management allowed her to meet her future employer. The work experience opportunity at the World's Longest Lunch led to an internship with En Pointe and, now graduated, Hannah is working for the company full-time thanks to Angliss.

Learn more about unique work experience opportunities coordinated by the Angliss Careers and Employment team here.
Published 22 April 2022