Tourism student becomes a VTIC awards finalist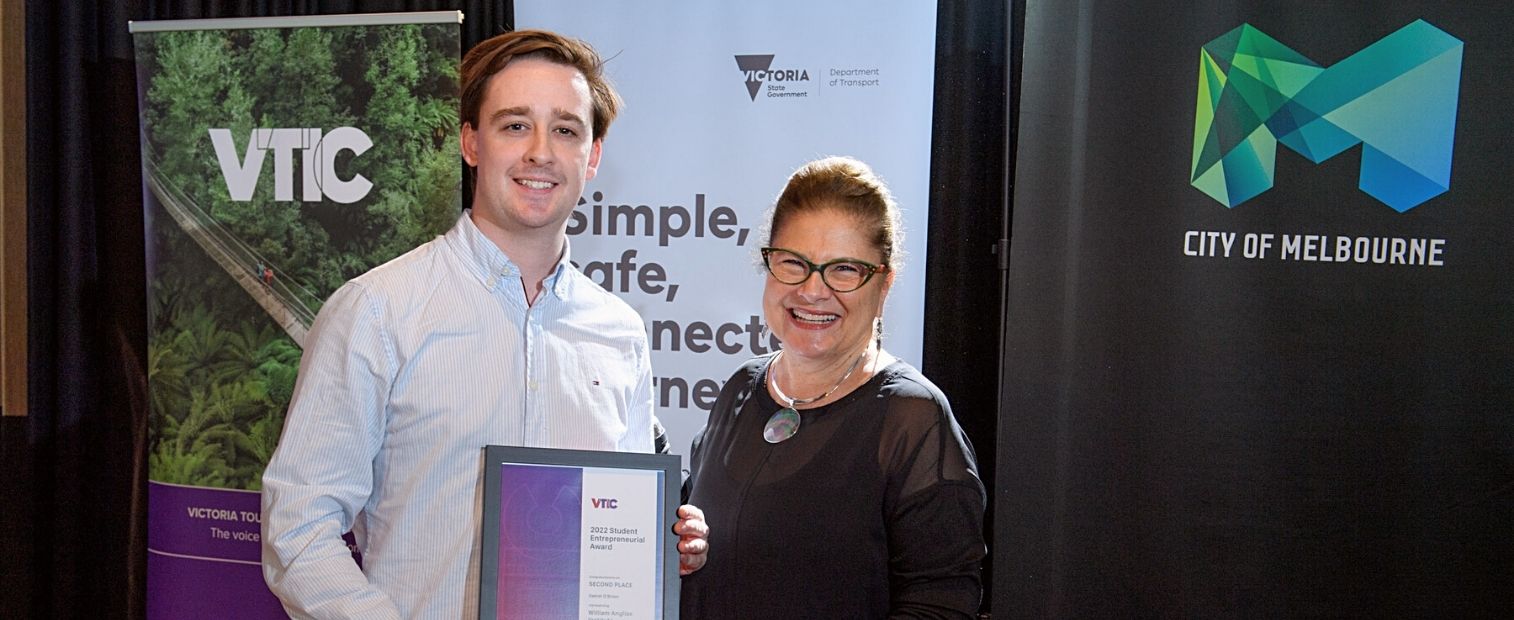 (Image features Daniel O'Brien and VTIC CEO Felicia Mariani)
Current Bachelor of Tourism and Hospitality Management student Daniel O'Brien is the proud finalist in this year's Victorian Tourism Industry Council (VTIC) awards.
For five years, the VTIC awards have brought people and industry together to recognise innovative business ideas, which have been developed by students. These ideas are pitched to a panel of tourism industry leaders.
Daniel's idea was a proposal for a creative festival centred around the Yarra Valley and Dandenong Ranges, with the vision to see the domestic visitor numbers of the area improve over time.
Daniel said, "My connection to this area, is that my hometown (Diamond Creek), sits at the front door of the Yarra Valley."
It was titled Festival of the Valley, and its objective was to encourage collaborations between creatives, food producers, wineries and community groups to promote visitor dispersal and overnight tourism.
Daniel prepared a comprehensive presentation, which painted a clear picture of how the festival would run. Activities like music, gastronomy, arts and culture were all part of his plan and he even outlined a realistic profit and loss projection for the next five years.
In Daniel's words, "The idea behind this event started from an Angliss assignment to create a visitor experience and increase visitation numbers to the town of Hurstbridge. When I looked at the current data, it was clear the area showed low visitation numbers."
Daniel's Lecturer Ngaire Griggs said, "This award gives students a taste of the industry. The thing with Daniel's idea, is that it's feasible and everybody could relate to it. It was exciting to see the enthusiasm around the potential of Daniel's idea. I am proud of Daniel and the effort he put in, including all the work leading up to the VTIC award. His idea is very impressive"
Daniel is passionate about tourism and people's motivation to travel. He implored anyone with the same outlook to enrol into the course. He said, "Give it a go. Put in 100% of your effort. Get involved in any extra activities available at the Institute. You'll feel like you're a part of the industry at Angliss."
Consider enrolling into Tourism or Hospitality. Visit our website or call +61 3 8595 5334 to learn more.
PUBLISHED 8 JULY 2022