Angliss students join pre-opening team at new Marriott Docklands hotel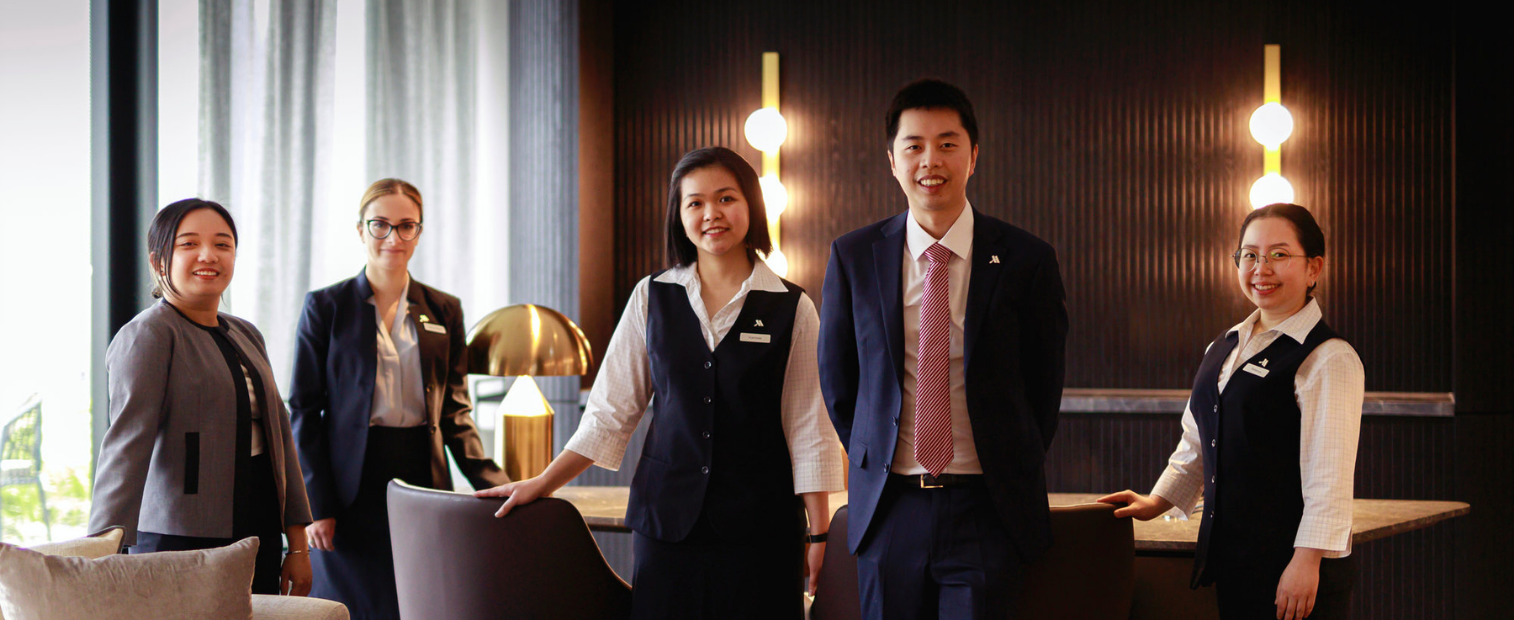 A team of Angliss students and graduates are part of the pre-opening team led by alumni Front Office Manager, Justin Louey at the new five-star Melbourne Marriott Hotel Docklands.
This hotel is the first new-build Marriott branded hotel in Australia in more than 20 years and the first luxury property in the waterfront Docklands precinct. Featuring 189 guestrooms and a resort style rooftop infinity pool, it's the perfect training ground for a career in hospitality with the world's largest hotel group.
Alumni of the Institute, Justin studied the Bachelor of Tourism and Hospitality Management, graduating in 2011.
Justin said one of the most challenging aspects of the pre-opening was sourcing talent amid the impact of the Covid-19 pandemic, resulting in a reduced talent pool as ongoing uncertainty remained around domestic and international borders.
At Melbourne Marriott Hotel Docklands, Justin is leading a Front Office pre-opening team of 20, which includes five current students and alumni from William Angliss Institute. They come from a range of courses, including the Bachelor of Resort and Hotel Management, Bachelor of Tourism and Hospitality Management and even the Bachelor of Culinary Management.
"There is a focus on training and development and unlike in an operating hotel where most training is done on the job, we have the benefit of extra time, support and resources to offer extensive classroom-based guest service and systems training prior to the hotel opening to guests," Justin said.
"Being part of a pre-opening team is like being part of a family and it is all hands on deck as we set up the hotel. Associates are involved in building processes, developing guest service initiatives and setting up operating supplies and equipment in guest rooms. As a result, the feeling of camaraderie and pride is an experience that would be difficult to replicate in another position," he said.
Current Angliss student Sally Tran said her experience as part of the Marriott pre-opening team has been rewarding.
"Interacting daily with associates on various tasks as we prepare to open the hotel, has allowed us to gain valuable lessons and experience in teamwork," Sally said.
She has recently finished her third year of a Bachelor of Resort and Hotel Management degree and is currently undertaking aProfessional Practice year.
"William Angliss Institute helped me learn about hotels and resorts as well as understanding the procedures in operations. I also learnt about PMS systems which has helped me in my role at Marriott."
Sally said the hotel industry is very unique and interesting, as it is so varied and dynamic, with hotel facilities ranging from accommodation, food and beverage outlets to event spaces.
According to Sally, "Working in a hotel, I feel like we don't just sell a product or service, rather we are trying to provide our guests with an experiences that they will remember - from what I studied at Angliss, we called it an 'intangible element'."

Published 8 December 2021