Premier and Minister visit William Angliss Institute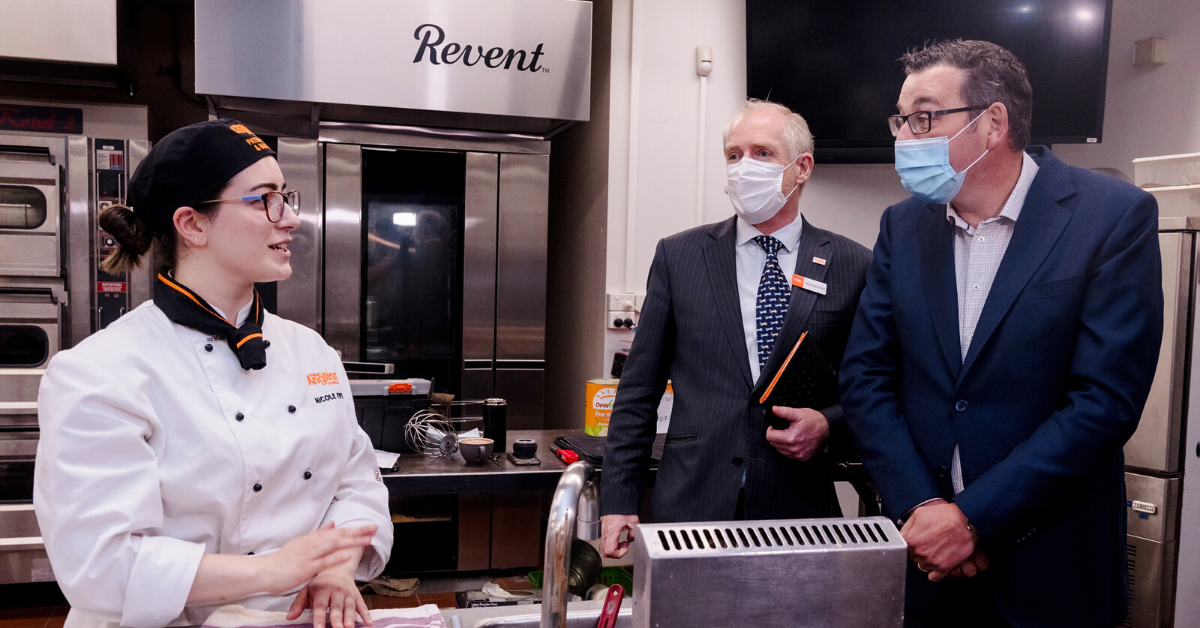 William Angliss Institute hosted the Victorian Premier, The Hon. Daniel Andrews MP, the Minister for Training and Skills, The Hon. Gayle Tierney and the Member for Northern Metropolitan Region, The Hon. Sheena Watts MP on Thursday 9 December.
The Premier announced the achievement of the 100,000th Free TAFE student and additional financial support for Victorian TAFE sector of approximately $108m.
The Premier toured the Angliss Restaurant and spoke to front of house Diploma of Hospitality students, Patisserie students preparing a Christmas lunch menu in the Angliss Restaurant Kitchen and Certificate III Baking students, along with their teachers.
"The Institute was delighted to host the Premier, the Minister and the Member for Northern Metropolitan Region," said CEO Nicholas Hunt. "As the foods, tourism, hospitality and events industries recover from the disruptions of the pandemic, we look forward to being at the forefront of providing the best training possible for the next generation of leaders in these vital experience industries."
Three Free TAFE students were on hand to meet the Premier and the Minister and share their story.
Anna Tian, a Certificate II Baking student, had been in banking for 30 years but discovered the therapeutic benefits of baking during lockdown.
Rey Gamayon, a Certificate III Commercial Cookery student, was working for Ambulance Victoria but wanted to follow his passion for cooking and aged care which he rediscovered during lockdown.
Deanna Pascoe, a Certificate II Baking student, returned home from travelling overseas looking for a new career when the pandemic hit and she found joy in preparing baked goods for family and friends during lockdown.
Free TAFE for priority courses reduces the financial barrier for students wanting to train in courses that lead to jobs in demand from Victorian employers.
William Angliss Institute offers a range of Free TAFE courses:
To apply for the February 2022 intake, visit: https://www.angliss.edu.au/study-with-us/free-tafe/

Published 10 December 2021