October scholarship winners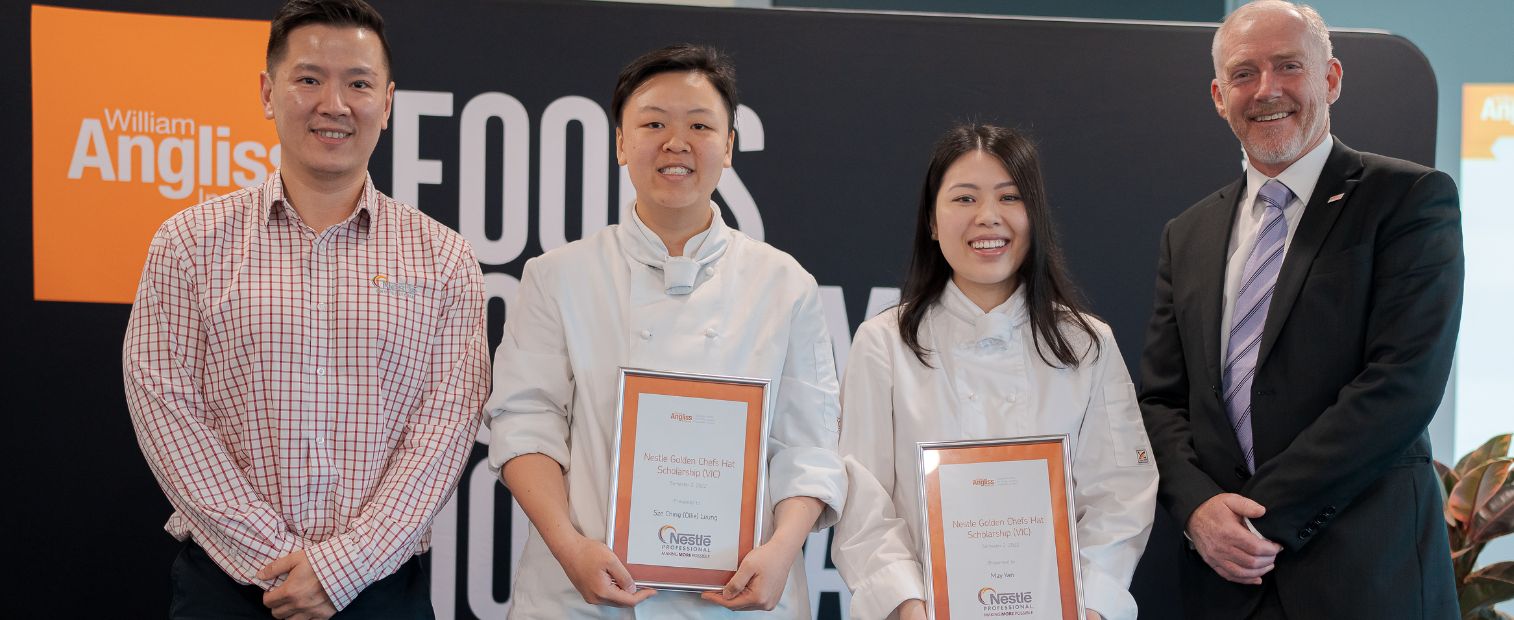 (L-R):Alan Chou, Account Executive Beverage Solutions, Nestlé Professional, scholarship recipients Sze Ching Leung (Ollie) and May Yan, along with Nicholas Hunt, CEO, William Angliss Institute
$35,000 worth of scholarships were awarded at the October Scholarship Ceremony in Melbourne, thanks to the William Angliss Institute Foundation and long-time Institute partner Nestlé Professional. The ceremony offered this semester's recipients an opportunity to meet with fellow recipients, the Nestlé Professional team and the Institute's Board.
The ceremony opened with motivational words by Angliss CEO Nicholas Hunt followed by a moving speech by former scholarship recipient Vanessa Hill, who offered immeasurable gratitude for the support that she received throughout her time at the Institute.
The October scholarships were awarded to;
May Yan, Angliss Certificate III Commercial Cookery (SIT31816) student and scholarship recipient, said, "Being awarded the Nestlé Golden Chef's Hat Scholarship will make a huge difference for me. Especially in light of the recovering industry and the increasing costs of living. I feel much more secure about my future to pursue my culinary career and work towards my goal of opening my own restaurant here in Melbourne."
Sze Ching (Ollie) Leung, is proud to be studying for her Certificate IV in Commercial Cookery (SIT40516) at the Institute. She said, "Getting to study at one of Australia's best cooking schools is allowing me to pursue my true passion. Growing up in Hong Kong, such a diverse and multicultural city, I first discovered my enthusiasm for cooking both Asian and Western cuisines. After working in engineering for a few years, I decided to change my professional path. This scholarship will go a long way to help take the financial burden off my parents for my living costs and to support my education."
Nestlé Professional is proud to be investing in the future of culinary stars through continuing its support of William Angliss Institute students.
Karlie Durrant, Communications & Sustainability Manager, Nestlé Professional said, "Nestlé Professional is proud to partner with Australia's leading culinary institute. These student scholarships are a true testament to our ongoing commitment towards the future of our industry. We're proud to support young chefs and offer them the opportunity to advance their culinary development."
The Institute's CEO Nicholas Hunt said, "Thanks to this scholarship provision, our recipients are on a path to a brighter future. This is a long-standing commitment from our industry partner, Nestlé Professional, and their support of our students is a valuable investment in the industry and culinary leaders of tomorrow."
Visit angliss.edu.au/scholarships or contact studentservices@angliss.edu.au for more information about scholarships.
PUBLISHED 11 NOVEMBER 2022