The Institute's 2022 Melbourne Graduation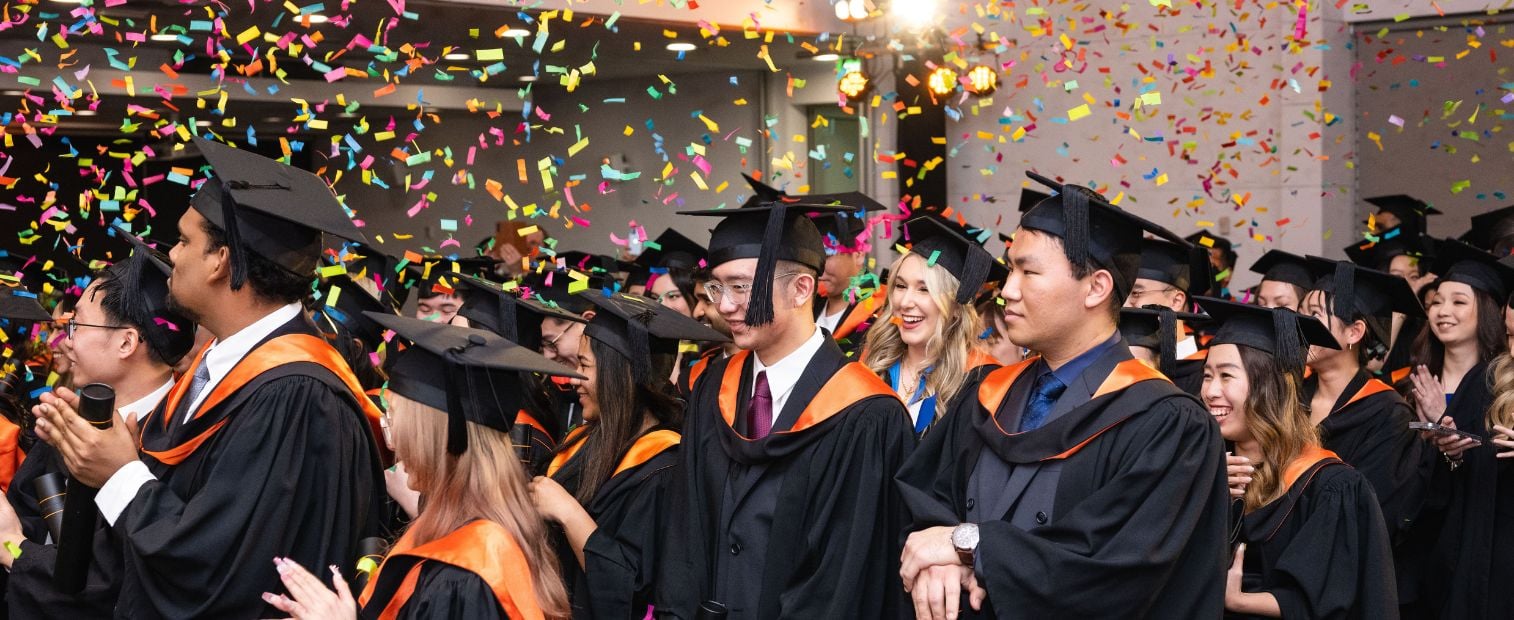 The William Angliss Institute August Graduation Ceremony took place across three big days and saw over 200 students graduate across Higher Education, Centre for Food Trades and Culinary Arts and Centre for Hospitality and Tourism.
Guests were treated to a pre-ceremony gathering at the Student Lounge, which saw family and friends come together to help the graduands celebrate and offer support for the big day.
Over 200 students graduated and 10 students received a special Dean's list commendation. Culinary student Phuong-Tran Nguyen won the special prize for Outstanding Creative Skills in Patisserie Award, where she was gifted a mixmaster donated by Robot Coupe.
Inspirational words of encouragement were spoken by Board Chair Dr. Anne Astin AM, PSM; Acting CEO, Wayne Crosbie; Director Education, Chris Harris; and Board Member, Mateo Pignatelli.
Each day concluded with a soirée that was run by students of the Institute, where graduates could engage with educators and fellow students alike.
Further awards included;
VET SPECIAL ACHIEVEMENT AWARDS
Best Practical and Theory Student for Certificate III in Commercial Cookery (Non-Apprentice) Award
Awarded to Jun Park
Sponsored by Simon George & Sons
Best Practical and Theory Student for Certificate III in Commercial Cookery (Apprentice) Award
Awarded to Marcus Surjadi
Sponsored by Dura-Wear
Academic Achievement in Patisserie Award
Awarded to Ellie Archer
Sponsored by Apromo Trading
Most Outstanding Certificate III in Hospitality Student Award
Awarded to Charlie Leddin
Sponsored by Angove Family Winemakers
Most Outstanding Diploma of Hospitality Management Student Award
Awarded to Tik Ping Wong (Twiggy)
Sponsored by Food and Desire

Most Outstanding Advanced Diploma of Hospitality Management Student Award
Awarded to Angus McTaggart
Sponsored by Brunswick Aces

Most Outstanding Travel and Toursim Student Award
Awarded to Anna De Leeuw Pool
Sponsored by SKAL International

Most Outstanding Aviation Student Award
Awarded to Eddie Tran
Sponsored by Altara

Most Outstanding Events Student Award
Awarded to Amy Milnes
Sponsored by Club Chef

Higher Education Special Achievement Awards
Dean's List
Published 31 August 2022