Royal visit to Charcoal Lane
Trainees at Charcoal Lane were thrilled to host the royal couple the Duke and Duchess of Sussex for native food tastings and lunch.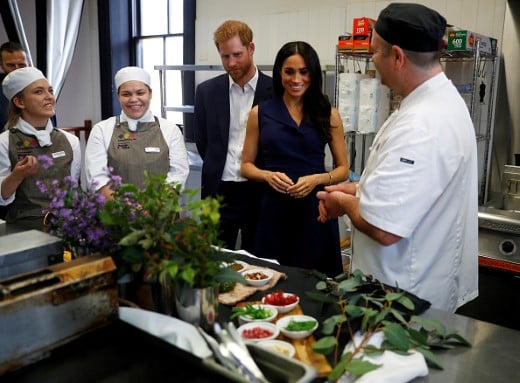 During their whirlwind tour of the city, Harry and Meghan dropped into Charcoal Lane for a 'touch, taste, smell' hands-on tour of native ingredients.
Indigenous WAI student Darlene Balhas said the royal couple were down-to-earth and very interested in the different plants and food types.
"I had the opportunity to explain what some of the succulents and plants were with the help of executive chef Greg Hampton," Darlene said.
Indigenous young people train at Charcoal Lane in both back-of-house and front-of-house with the support of Angliss trainers. Darlene is undergoing a traineeship at Charcoal Lane along with 16 other young people studying a certificate ll in Hospitality.
The group of five students including Darlene were Brooke Warr, Che Parkinson-Sprenger and Tomika Bell who participated in the tasting. Then the Duke and Duchess of Sussex moved downstairs to the restaurant for a lunch served by 2 other trainees - Jessica Sturk and James Dickerson. Fantastic opportunity to showcase the food of Charcoal Lane and the skills and knowledge of the young people.
Charcoal Lane is a social enterprise between Mission Australia and the Institute aiming to provide leadership and mentoring to help Indigenous young people achieve their potential and gain long-term independence, while creating a skilled workforce for the hospitality industry.
William Angliss Institute also does significant work throughout Australia to deliver accredited training programs that have been contextualised to meet the learning needs of Indigenous young people.