William Angliss Institute celebrates Hot Cross Bun Day
Every Easter for more than 20 years teachers and students from Baking and Patisserie have cooked hundreds of dozen hot cross buns.
Some are donated to the Pied Piper­ for volunteers working at the Royal Children's Hospital Good Friday appeal. The rest are enjoyed across campus by staff and students and shared with industry partners and stakeholders.
2018 Hot Cross Buns delivery to Parliament
After many weeks of preparation, the students and teachers from Baking and Patisserie commenced work in the early hours yesterday producing 428 dozen William Angliss Institute 'secret recipe' Easter Hot Cross Buns.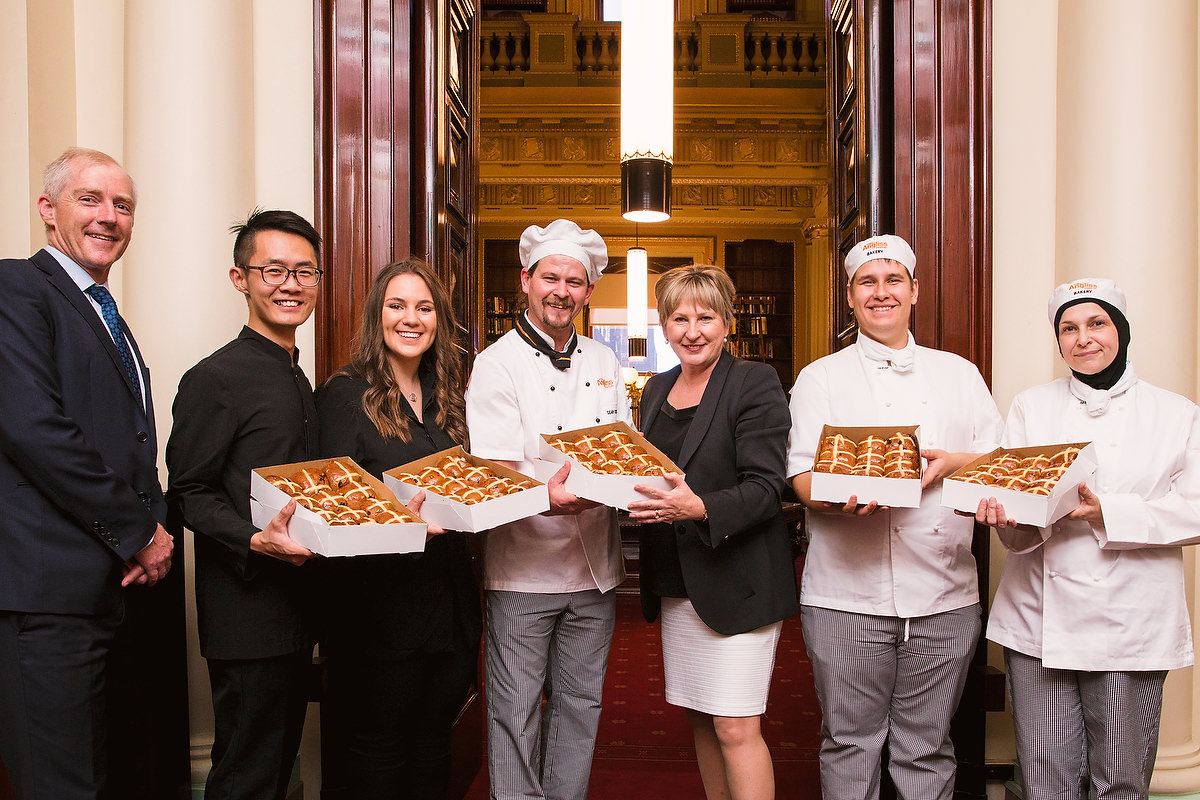 For the past 20 years, the Institute has donated freshly baked hot cross buns each year to Pied Piers ­ for volunteers working at the Royal Children's Hospital Good Friday appeal.
"This activity provides a positive learning experience centred on real world production for the students involved. In addition, knowing firsthand how important the people behind the scenes are it is great to support their efforts in a small way with a morning tea delivery of our hot cross buns," Centre Manger for Food Trades and Culinary Arts Mark Agius said.
As part of the Hot Cross Bun Day celebrations, the Institute acknowledged the 54 students from 2017 and 2018 who as scholarship recipients were being recognised for their outstanding passion and commitment to the industry. The William Angliss Institute Foundation with additional support from industry partners and sponsors provides educational opportunities and financial assistance to support those excelling in their studies and training as well as those where financial assistance may support them to complete their studies and achieve their career ambitions.

Nicholas Hunt, CEO said, "with the support of our partners , in 2017 the Foundation doubled the opportunities on offer in scholarships and bursaries as in previous years, with more now available for commencing students and part-time students."

William Angliss Institute retail bakery students James Stogryn and Kelli Willis and hospitality students Yeoh Xiu Chorng and Sarah Jenkins along with Bakery teacher Sean Kennelly delivered hot cross buns to Minister for Training and Skills Gayle Tierney at Parliament House yesterday.